The Box and Goodies -
A Box by any other name would be… well, a box. However, as we have noted more than once what the manufacturer puts on their product packaging can be very important in terms of what they want you to focus on. The Z97-A is not a top-end product (It is more mainstream), but it has some of the same tech that Asus puts in their top end products.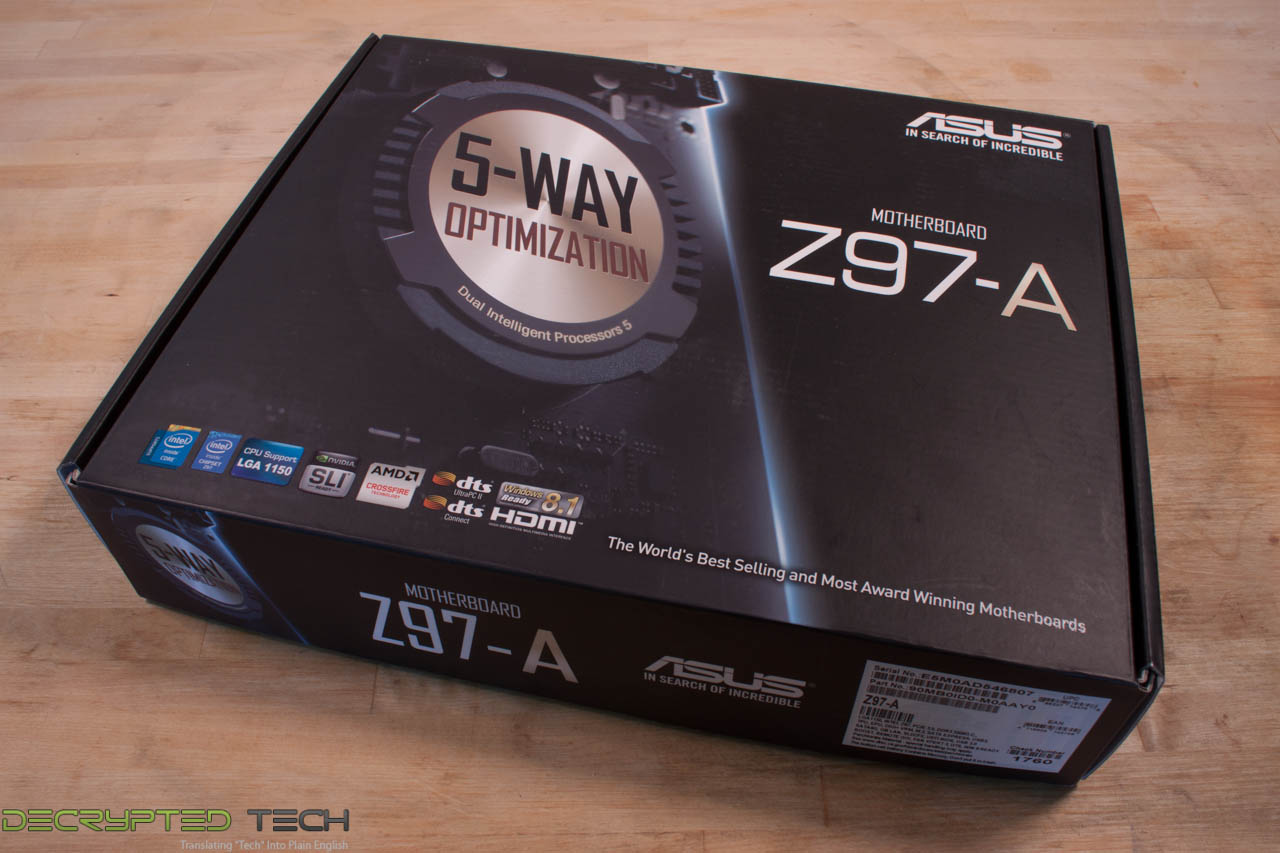 The front of the box is clean with an image of the new heatsink Asus is using for the Z97 MCP. Instead of the Asus name they have put their latest feature "5-Way Optimization" in its place. So what is 5-way optimization? Glad you asked, we will talk about that a little later on under features.
The back of the box (as is very common now) goes into much more detail including a picture of the board. Asus is pushing the 5-way optimization for their channel boards along with their Cloud solutions. One of the big items that is being pushed on the Z97-A is One-Click Optimization which we will cover in more detail in part two of our review.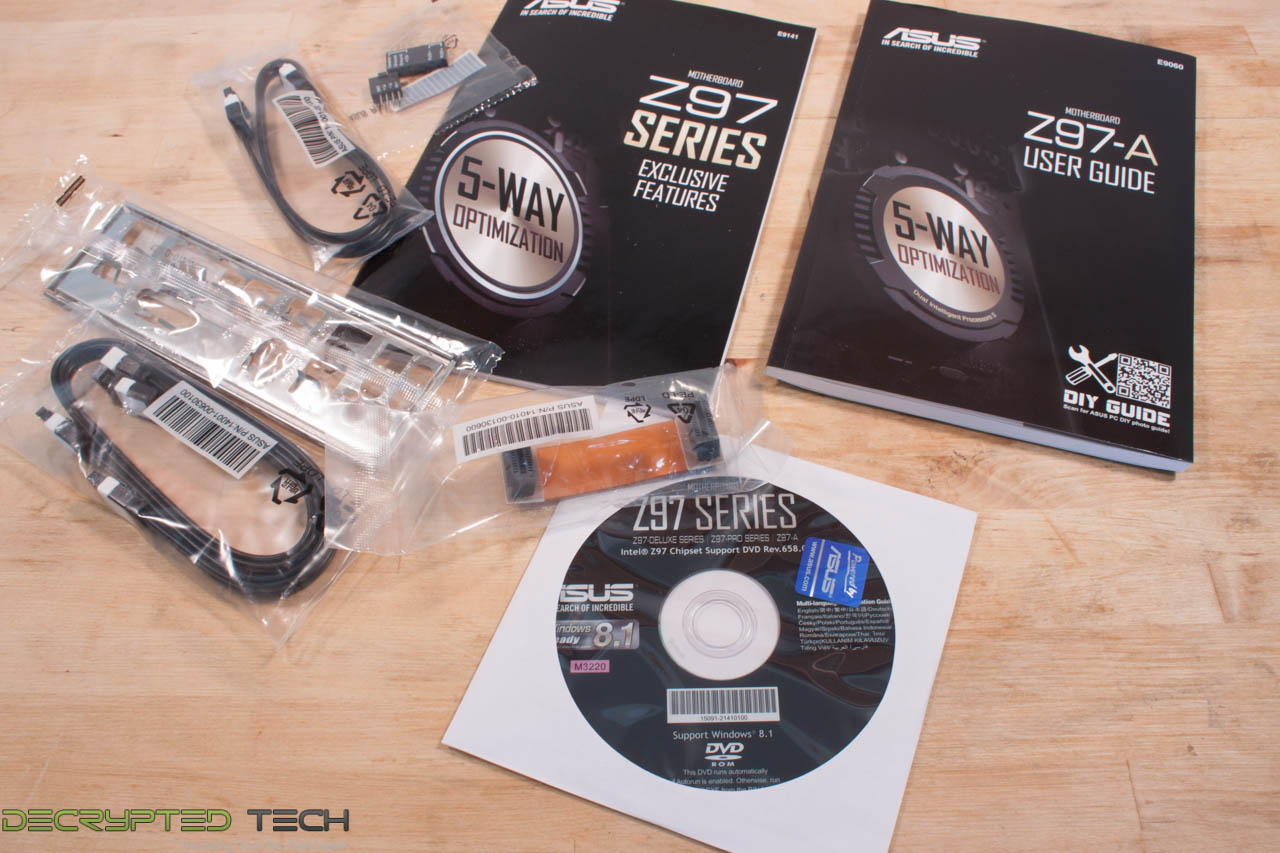 Inside the box you get the usual components. SATA cables, SLI Bridge, Manuals, Driver DVD… you know the drill by now.
The Layout -
The layout of any motherboard is important. Even simple mistakes in component placement or the signal traces can cause major issued in performance and stability. With the ATX form factor we find that this is even truer; the devices we drop onto them demand more and cleaner power while the signal speeds push faster and faster. The Z97-A is a standard ATX motherboard with almost the same typical layout we have seen a thousand times. It does follow the same pattern of CPU/Power/Memory on the top and peripherals on the bottom, but Asus has made some interesting departures that make the Z97-A noteworthy.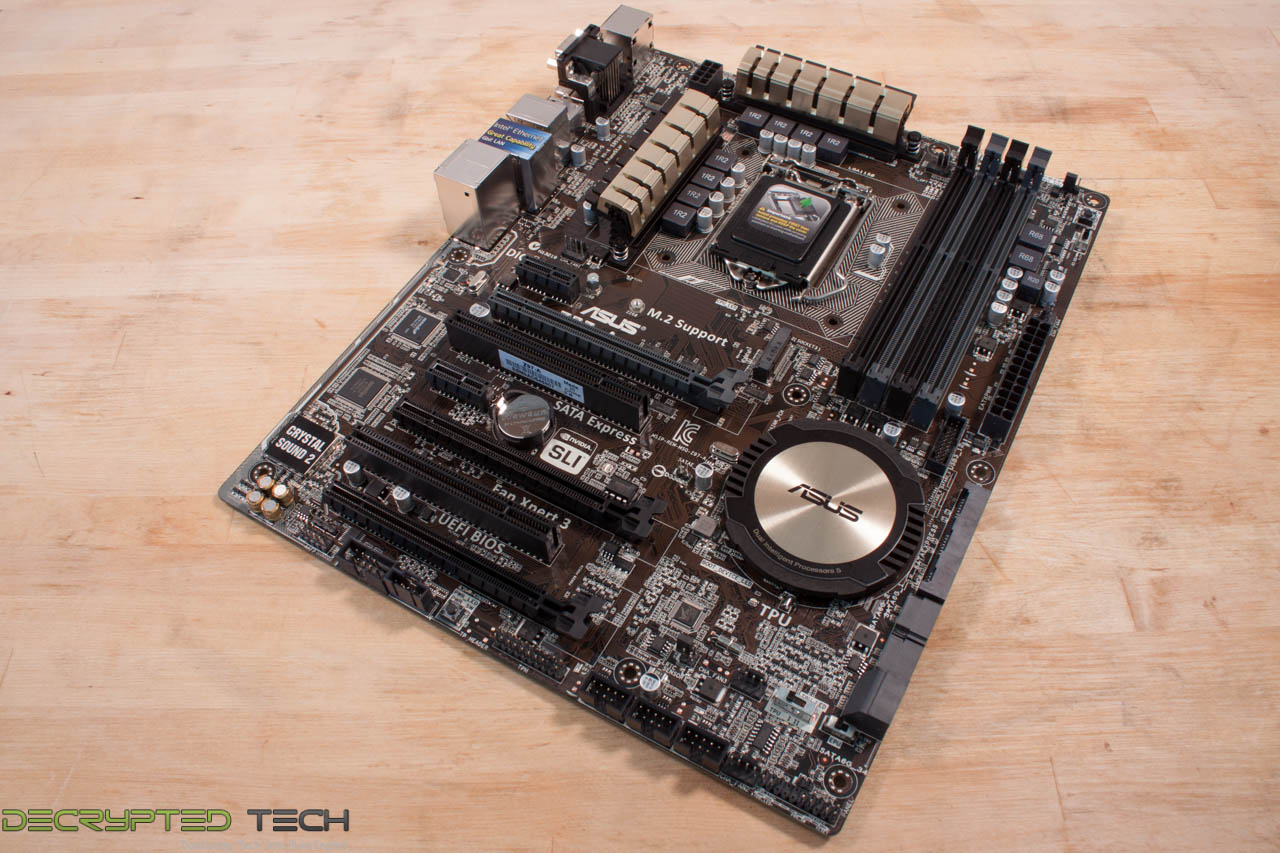 Kicking things off at the upper left corner of the board we find things as they usually are. 4-DIMM slots, 24-Pin power header, Fan headers and USB 3.0 header. Where things are a little different is that the USB 3.0 header has been moved back a little from the edge of the board while the 4-pin PWM fan header has been moved to the edge. This gives you a little more room to bend the much thicker USB 3.0 cable Vs the Fan cable. Moving up Asus has dropped in their EZ-XMP switch and MemGo Button. The EZ-XMP switch will enable the primary XMP profile on the Memory you use. If there are more than one available on your memory choice you might not want to use this as it will take the first option and use that one. In some cases this might be much lower than what your memory is capable of.

Moving around to look at the power regulators and the CPU zone we find and interesting design and layout. Asus has clearly marked off and protected the area around the CPU. This should make installing a cooler a little simpler. Believe it or not those little lines actually help prevent accidentally cutting a trace when a screw driver slips. You can also see the detail they put into the tracing layout on the Z97-A it is clean and efficient. A good trace layout can save you a lot of headaches when you are tuning for performance.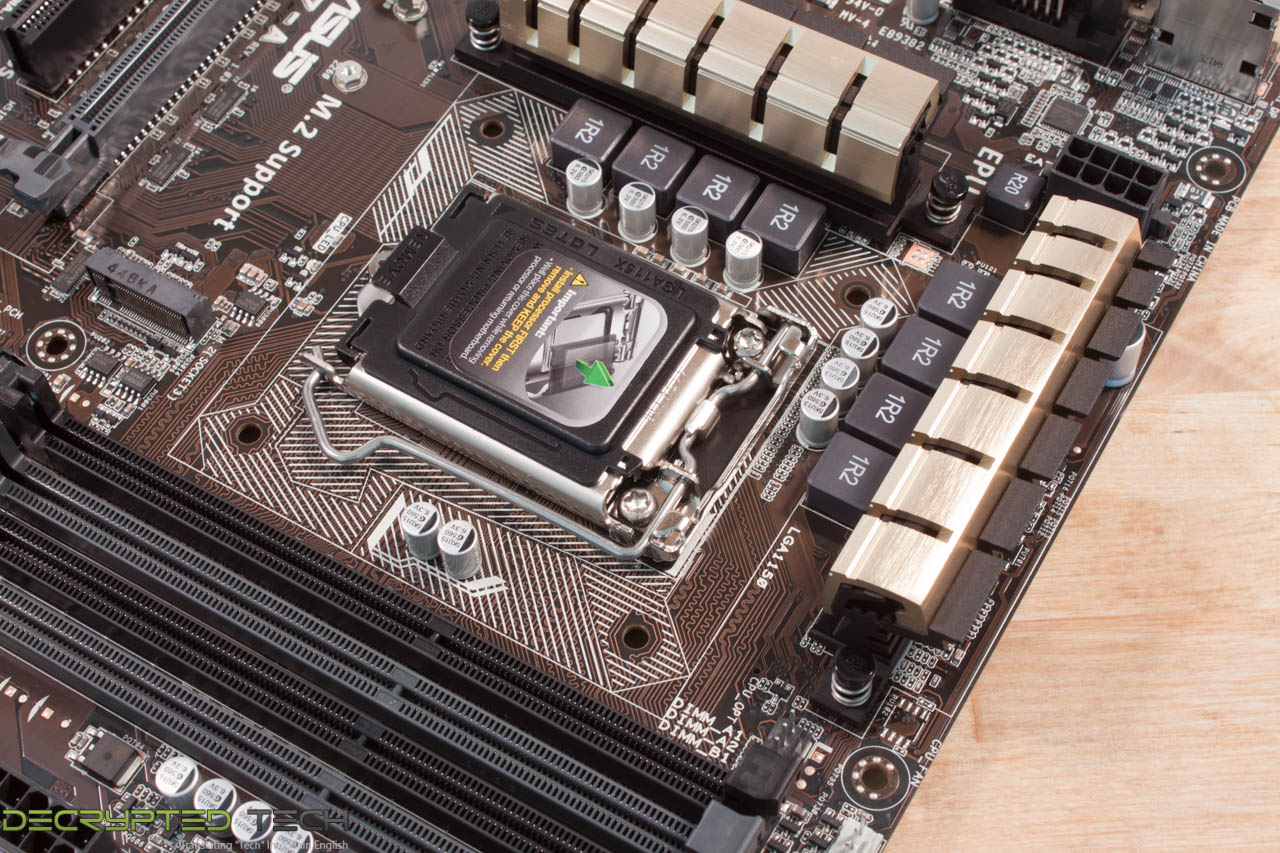 If you have read any of my motherboard reviews you know that the 8-Pin aux power connector is one of my pet peeves. On most boards it is very inconveniently located and guaranteed to be in a bad place. On the Z97-A it looks like Asus offset it a bit to give you pretty good clearance to this connector We would still recommend an adapter though.
Moving down to the lower half of the board we find the peripherals slots. Asus has changed the usual order of slots and dropped an x1 slot in first. This moves the first x16 slot (the only slot that is x16 mechanical and electrical) down to give room for the M.2 SATA slot.
Moving down to the lower right corner of the board we find the audio chip. This is Asus' Crystal Sound 2 and it is using the same design that used to only be found on the ROG line of boards. This includes using high quality audio caps for filtering and an amp to give you that extra power. Asus has also segmented this area of the board to keep signal interference to a minimum. It is a very clean design so that you get the best audio quality you can from this board.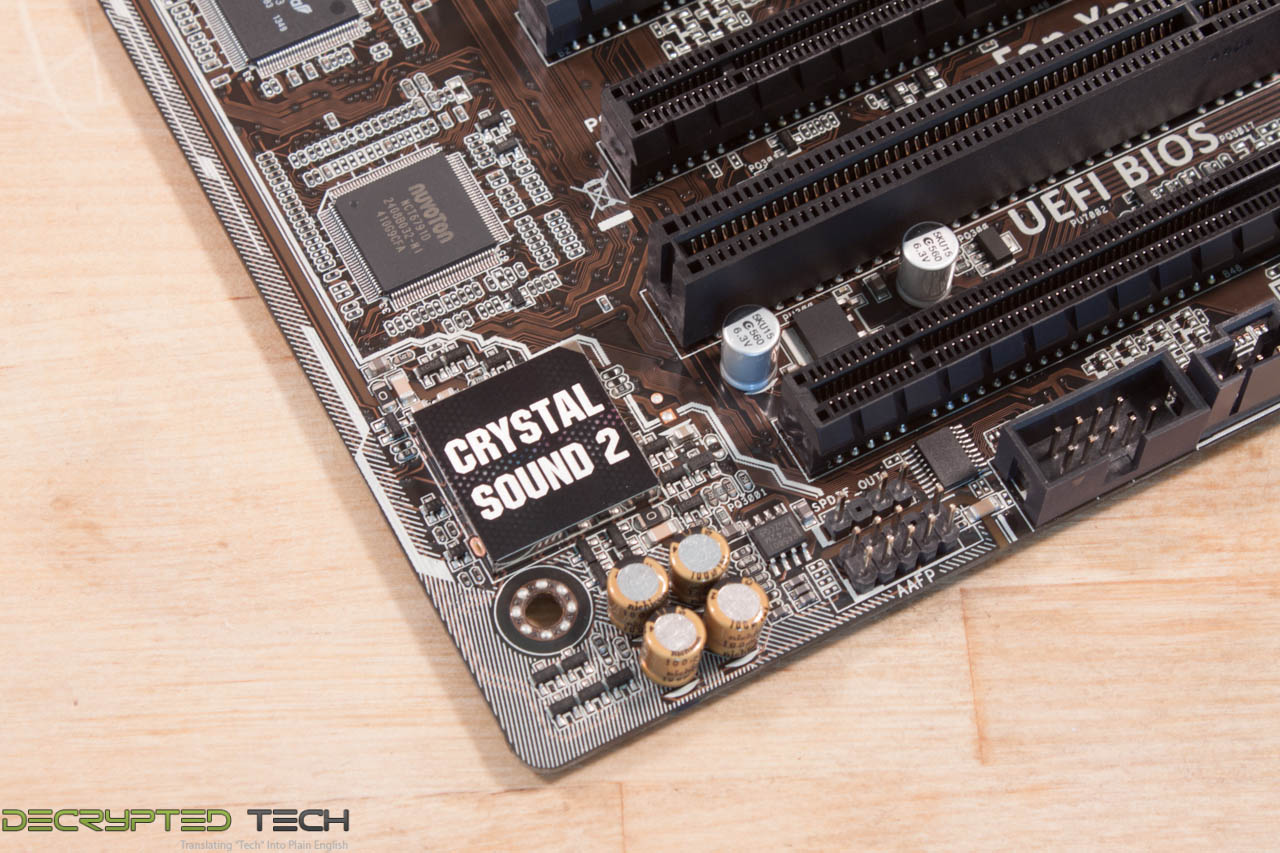 Along the lower edge of the board we see some of the more common header types and control options. One thing that stands out is the Thunderbolt headers between the COM port and power button. This is a fairly new feature from Intel and has some great potential for the future.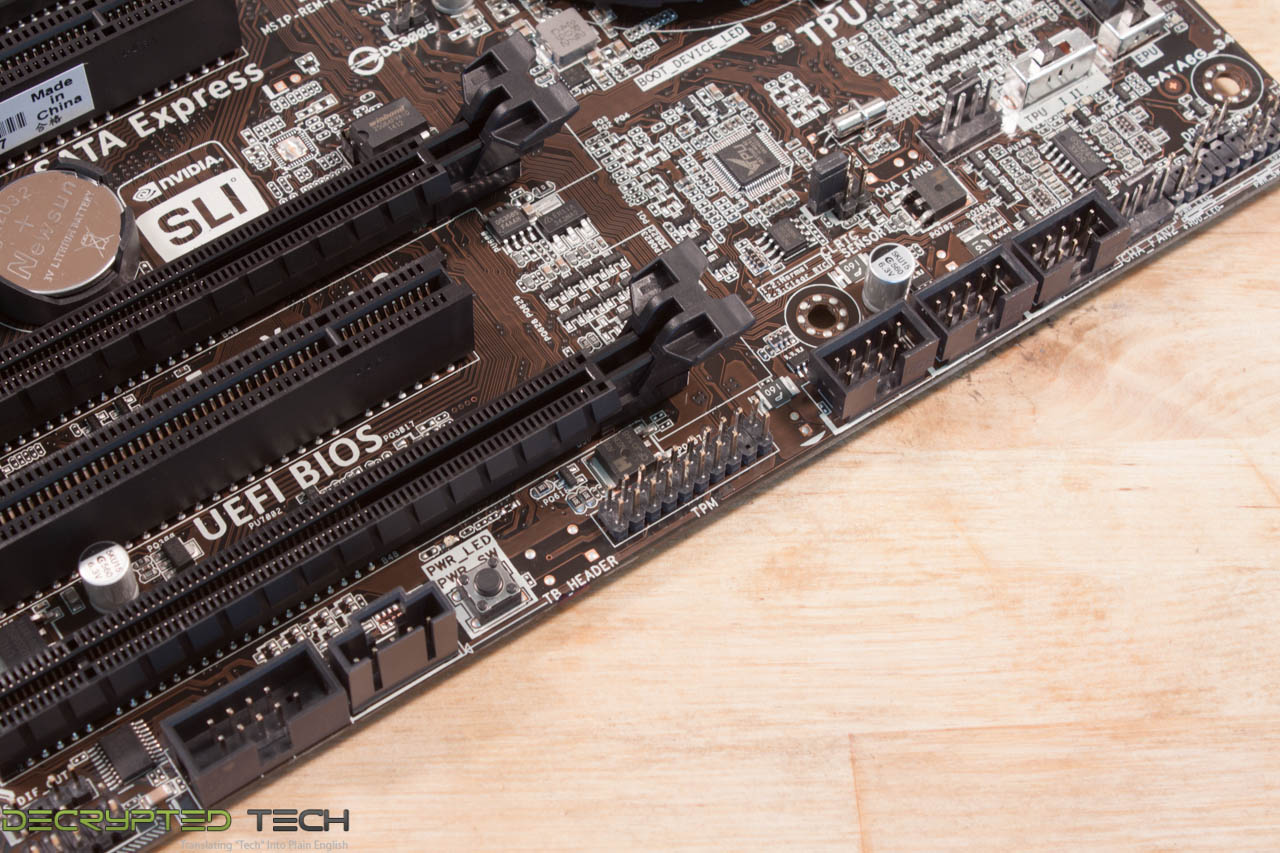 For storage options you get 4 SATA 3.0 (6GB/s) ports and a SATA Express port (Asus says this port is compatible with 2x SATA 6 ports). If you do not use the SATA Express port you do get an additional 2 SATA 3.0 ports. These are in their own housing and clearly broken out from the other ports on the board. We also mentioned the M.2 SATA PCie port just under the CPU socket, considering the positioning of the Z97-A these are some pretty impressive storage options.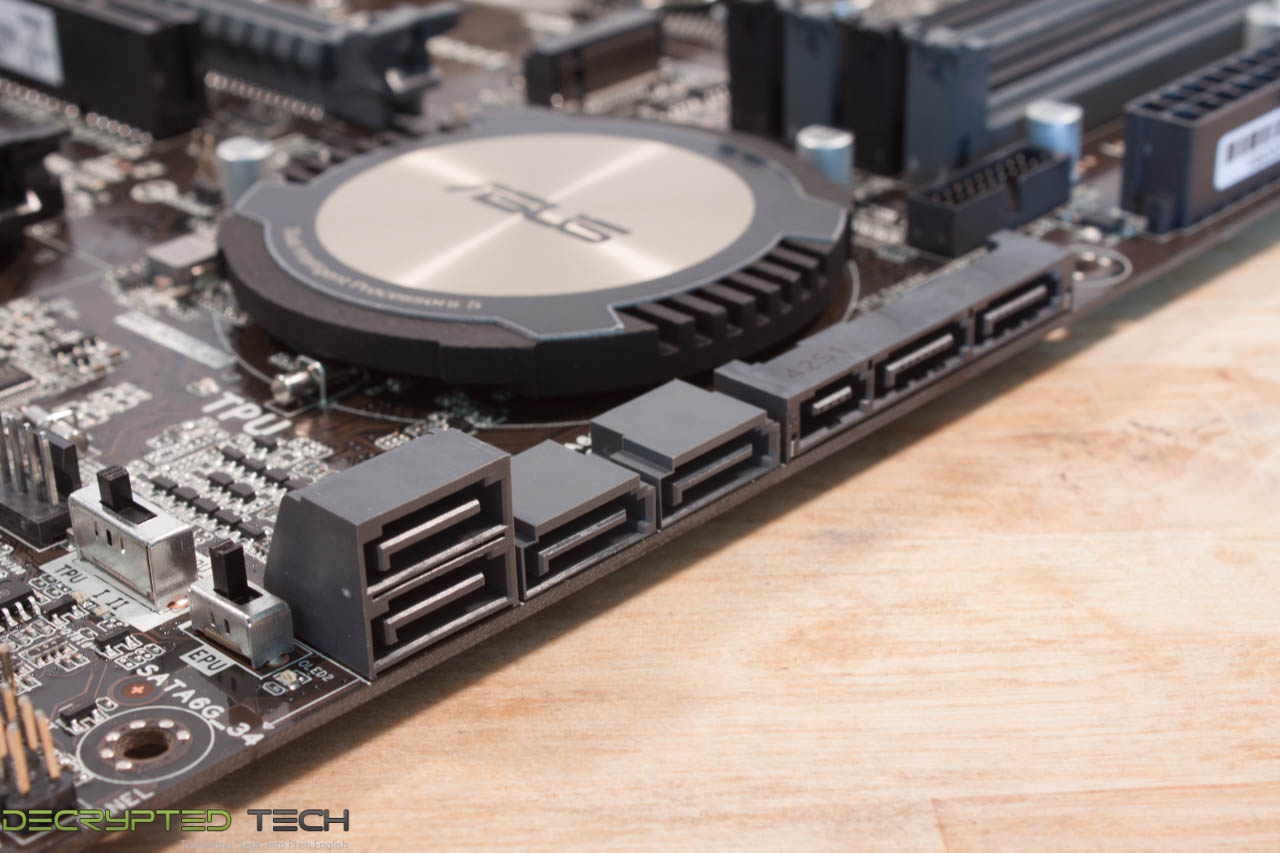 Flipping the board around to the I/O ports we see another departure from the norm. Instead of putting the PS/2 port at the top, Asus has pushed all of the video connectivity options to the top and moved everything down a little. The rest of the I/O options are pretty normal.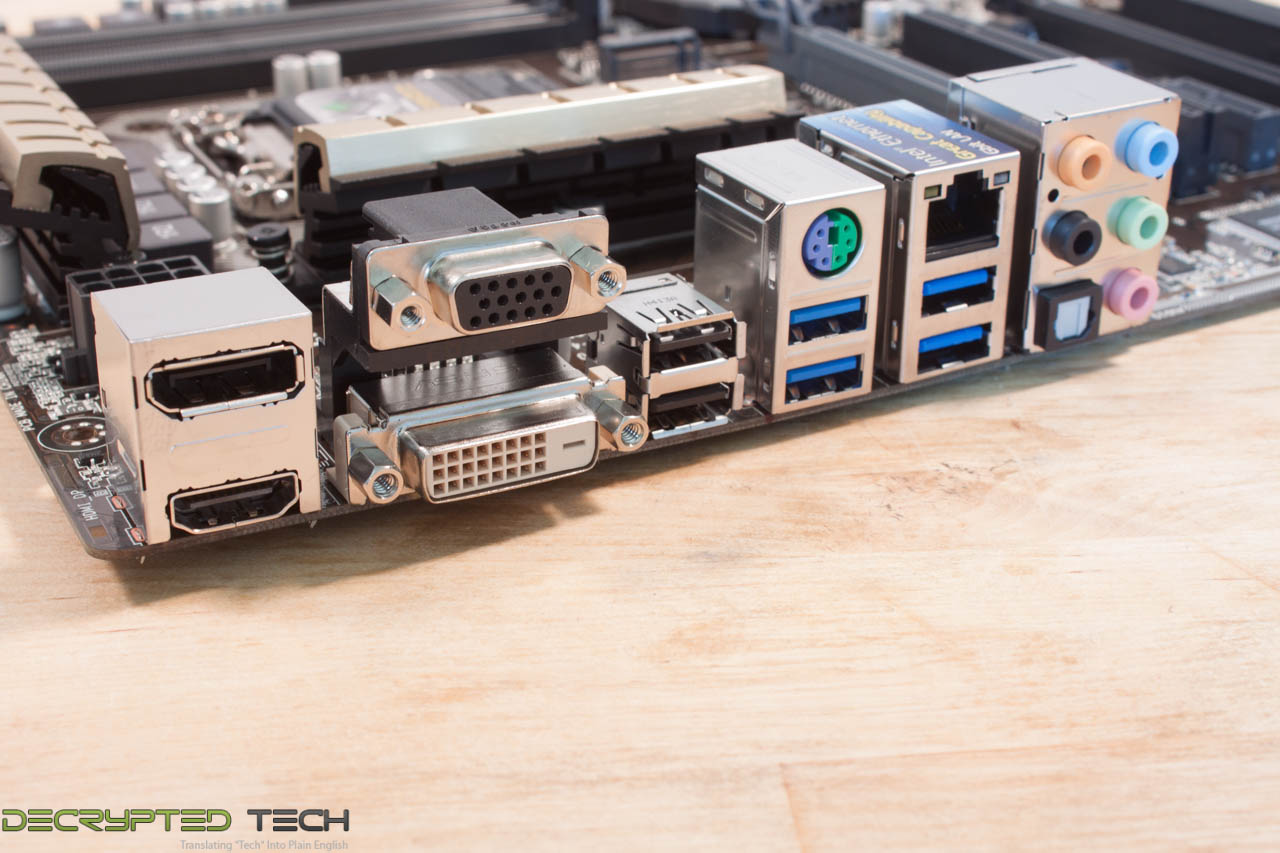 All-in-all the Z97-A looks to be an impressive board with a new design philosophy. Now we need to see if all of this can come together to give us a good performer or if it is just a bundle of cool features that do not work well together.
Features -
In the current market motherboard (and indeed almost all component) performance is very close. The days of a large performance advantage between boards using the same chipset are long gone. That is unless someone makes a HUGE mistake (like runs traces completely wrong). Now, the thing that differentiates different products is the features. These are things like power management, extra slots, better audio CODECs etc. It is these items that R&D teams work so hard to drop into what are really identical pieces of hardware at their most basic level.
Excellent –
Intel Lan
M.2 SATA
SATA Express
One Click Optimization
Tubo App
Segmented Audio
CPU Socket Protection
Digi + VRM
This list is actually quite impressive for where the Z97-A is positioned. Normally this list of feature is something you would see on a much higher-end board. The audio separation and quality and design is an especially welcome change. Normally at this level you are looking at audio that is "good enough". Asus has taken the extra step to give you a better audio experience along with features to make allow any user to get the most out of this board.
In the middle (sort of good) -
SLI
TPU (Turbo Processing Unit)
EPU (Energy Processing Unit)
Fan Xpert 3
EZ-XMP
I have listed these as sort of good features for a couple of reasons. They are all good features, but they are lost on many more advanced users and EPU is not used when overclocking so if you are looking to push your CPU on this board then it is a non-item. Still they are features that will improve the performance you get out of the Z97-A. We listed the EZ-XMP here as it will only give you the primary XMP profile. This could end up setting you at a much lower speed than anticipated.
Floor Mats -
USB (3.0 and 2.0)
These items had better be on the board you buy these days or it should not even be sold.
5-Way Optimization -
5-Way optimization is the name given to a combination of feature that include the TPU, EPU, Digi+ VRM, Fan Xpert 3 and Tubo App. TPU (Turbo Processing Unit) allows you to automatically find the sweet spot on your CPU for overclocking. Asus claims that their auto tuning can get you to 95% of the CPUs OC potential (something we will certainly be checking).
Next up is the EPU (Energy Processing Unit), this handy little option allows you to set up power profiles to get the best performance/ power efficiency.
Digi+ VRM is what Asus calls their digital power regulation. It is a very mature system now and does a solid job of feeding your CPUs power needs whether it is stock or overclocked.
Fan Xpert3 is a system and can automatically detect and optimize your system fans or apply a custom profile to them.
The last on the list is Turbo App. Turbo App is really nothing more than an API that lets you apply certain predefined overclocking profiles to individual applications (like games) so that as soon as you launch the application you get the benefit of the OC, but it is not running all the time. This can improve component life.
This is not a bad feature set all on their own, but we still have to make sure they work as advertised.
Conclusion –
On paper the Z97-A looks like a winner. It has a clean design with some welcome departures from the norm. It also has an excellent feature set for the spot it is aimed at in the market. The storage options alone are enough to make someone take a closer look. We also like that Asus made some changes in the layout that make sense from the way people build and connect their systems. If these features can come together with the right performance level this is going to be an amazing board. So be sure to check back and see what the performance numbers are in part two of our coverage of the Asus Z97-A.
Discuss this in our Forum