The Packaging and Stuff -
The Choiix Comforter does not look like a PC accessory. It comes in a clear plastic bag which has a cardboard insert to provide you with information about the product. The images visible on the front will give you an idea about what I was talking about. They are of people using this in very relaxed settings; no one is wearing shoes and the colors are muted. This is not a high-stress work product. Outside of these images you do get some specifics on the "back" of the wrap.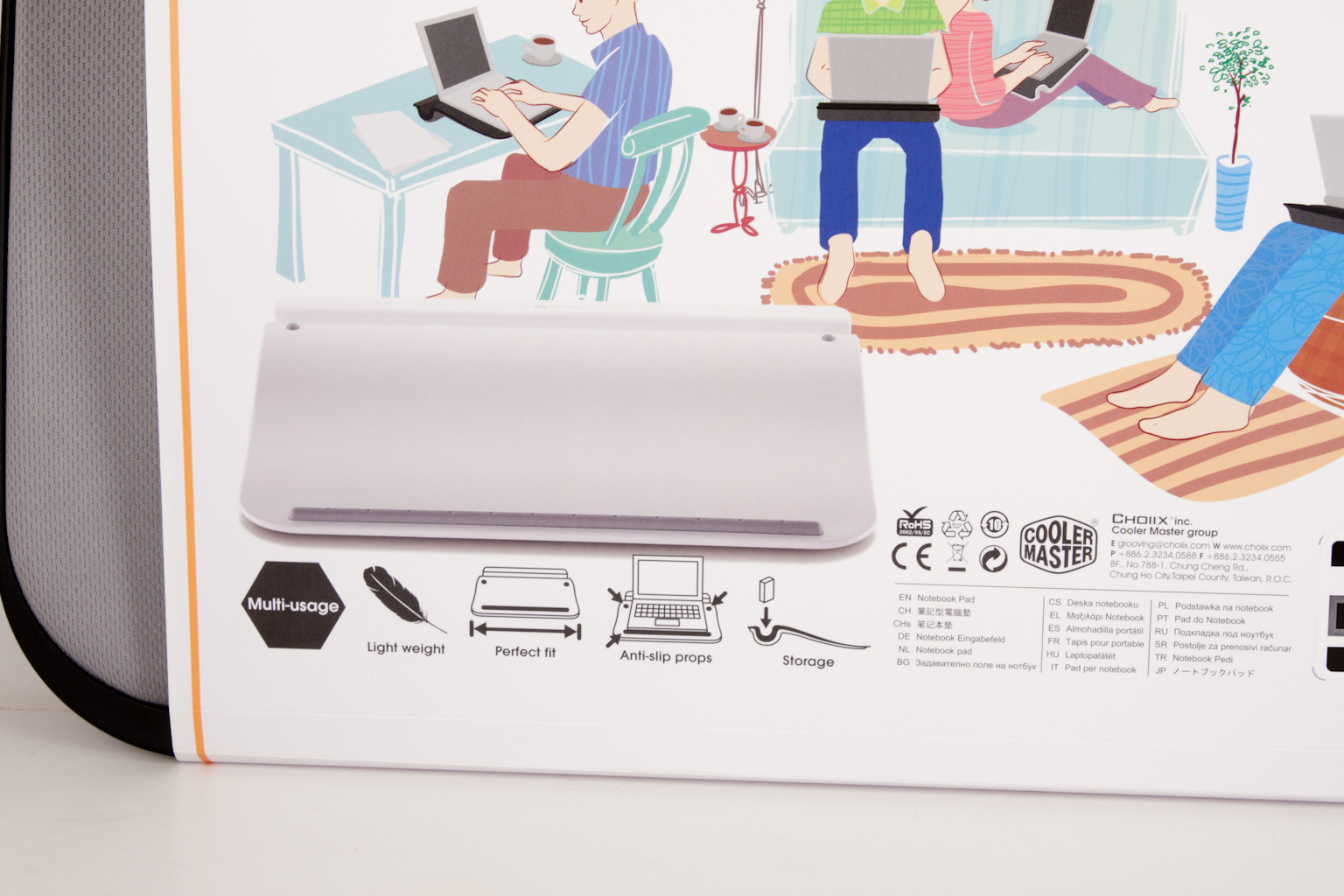 After pulling the plastic bag off, we found that the cardboard wrap-around has a tab at the top making it suitable for hanging on a peg at a store.
It is a very simple and subtle method for packaging this product. It almost comes off as a piece of living room or bedroom accessory and not one for a computer.
The Comforter Lapdesk -
The Comforter is an odd looking product. Its usage is obvious and can be gleaned from the packaging anyway. The thing that makes it so odd is the curvature and the scoop at the top. The top of the Comforter is made of a hard plastic and has a raised rubber bumper at the foot (along with two spots at the top. The ridge is to help keep your laptop (or netbook) in place while using the Comforter.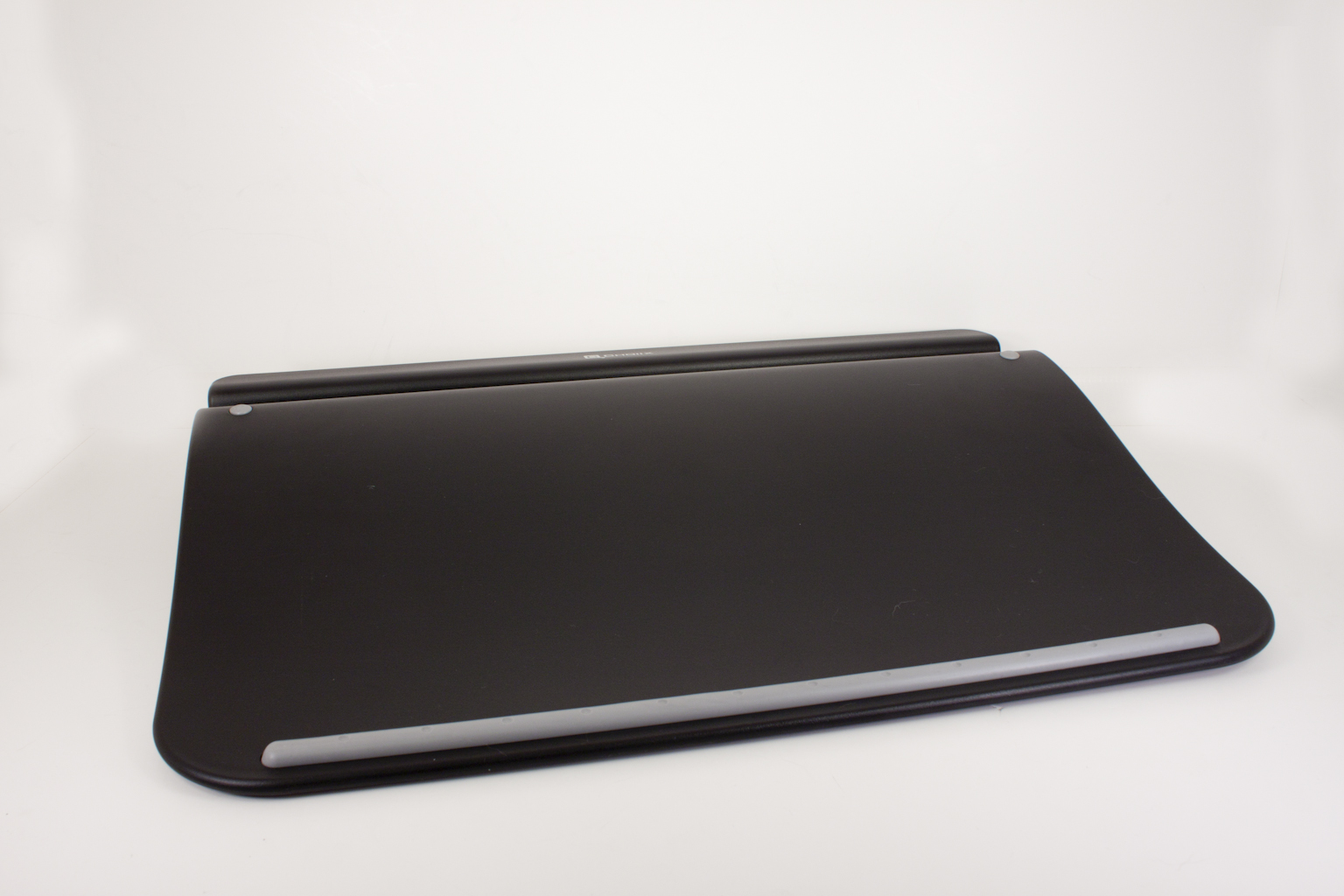 The upper scoop, while odd looking is actually very handy. You can drop your power brick back here (if you are close enough to a power source. You can also use this to store any number of items that you may want to use while mobile; we put our Seagate PS-110 external HDD back here along with an Asus External USB DVD-ROM.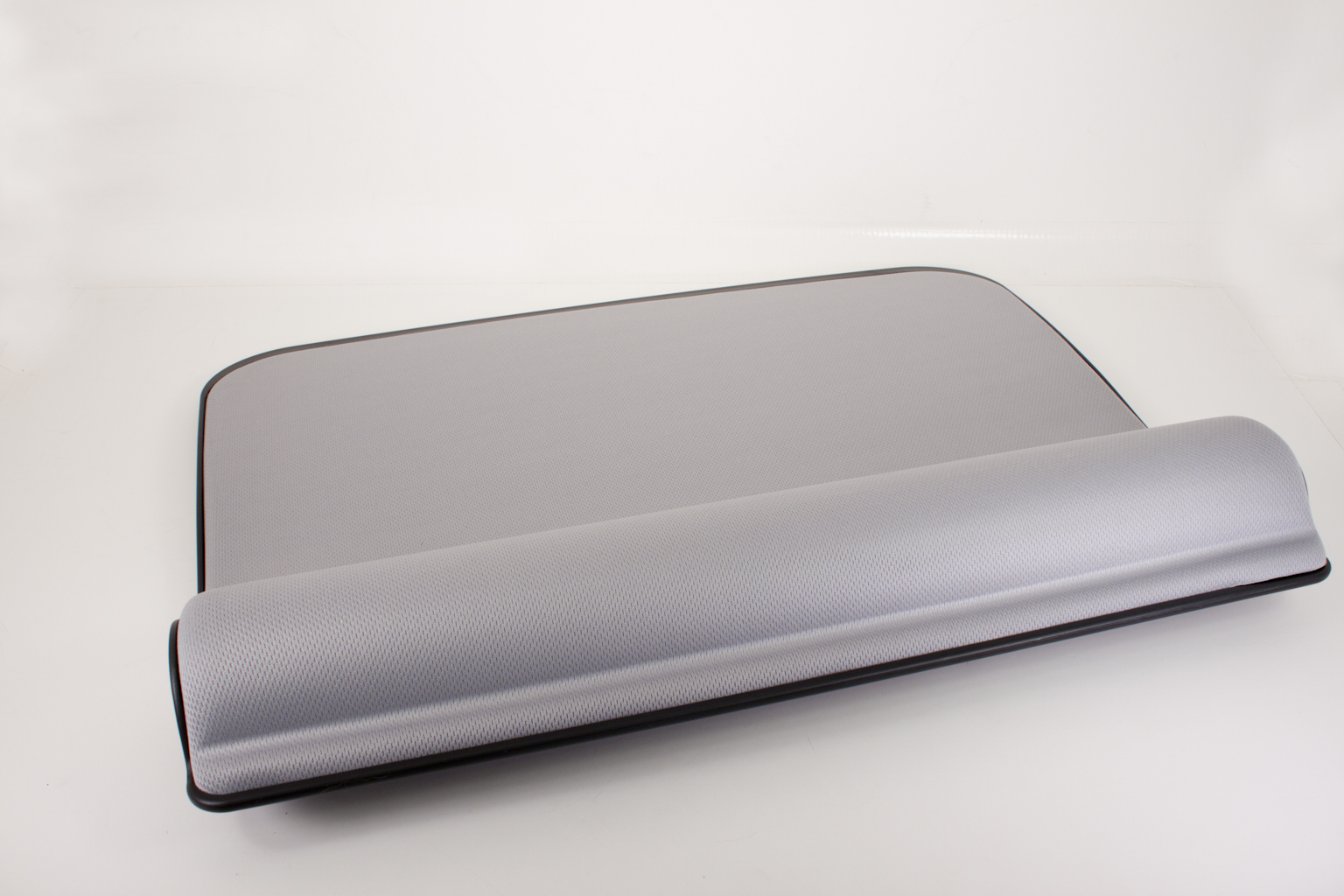 Flipping the Comforter over on its back we see that it has a cloth covered pad. This is to keep the weight off of your knees but also helps to keep the heat off of your legs as well.  According to Choiix you can also use this side as to hold your laptop if you have your knees drawn up toward your chest. The scoop (now a hump) keeps the laptop from sliding down when in this position.
There really is not much more to it to be honest, below are the specs right from Choiix's site. You can also catch another glimpse of the "lifestyle" theme we were talking about.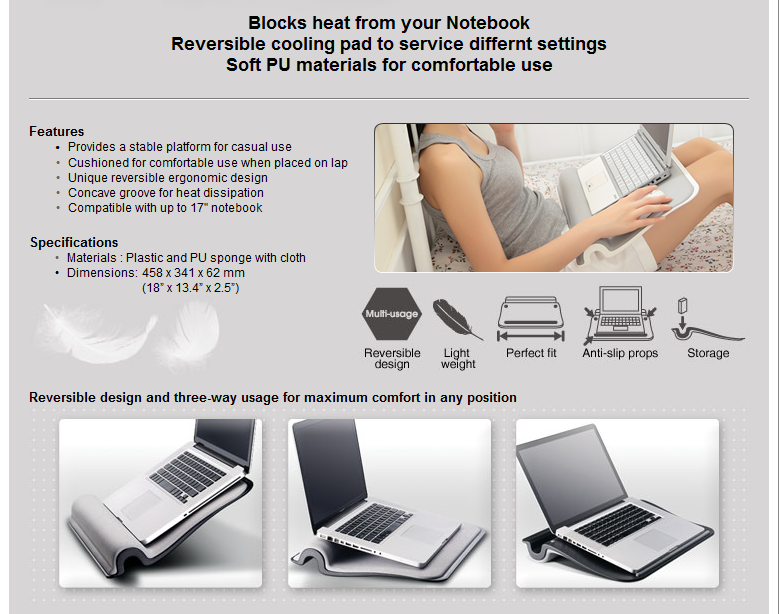 Performance -
General -
Choiix says there are three methods for as you can see below. We wanted to take a look at as many of these as we could but found that not all worked for each usage situation. In the image below we have numbered them for easy reference.



On the desktop -
When we used this on the desktop we ran into a few problems; for obvious reasons we were only able to test usage 2 and 3 here. The first and most annoying was that the Comforter would slide when we had the cloth side down. As I have something of a heavy handed typing style I had to pull the Comforter back towards me after a few minutes of typing. Flipping it over had a similar issue as the larger (heavy) laptop I use would also slide after a while.
On the Couch -
Here thing were a little different as we were actually able to try out all three way that Choiix says you can use the Comforter. When I rested the Comforter on my knees padded side down (image 3) the surface felt wobbly. I had to spread my knees apart to allow for a stable surface to work on. This became uncomfortable after an extended period of use (around 30 minutes or so). Raising my knees and flipping the Comforter over (image 1) helped a little, but it also caused my notebook to heat up rapidly. The model I use has three large fans on the bottom and with the padded cloth side under it there was no room for airflow. When I threw the MSI Wind 200 on it this was not an issue as it was not heavy enough to press down into the padding. Using the Wind also seemed to lessen the wobbly feel. When I used the Comforter as shown in image 2 it felt very awkward and became uncomfortable after several minutes. I felt like I had to keep my back ramrod straight, but I also felt like I needed to bend over to see the screen properly. Conversely my daughter loved it and was able to use it as shown in images 1 and 3 without any issues or complaints at all.
On the Bed -
Using this lying on the bed (well propped up anyway) gave us similar results to our couch usage. If your laptop is larger than 13 inches the Comforter can feel very unstable. If you are using something smaller then things tend to feel more stable, but not completely.  Again, the Comforter seemed to work best with our 10-inch netbook which is both smaller and lighter than our other two, more industrial, notebooks we use in the lab. Once again, my daughter did not have the same misgivings that I did, when she used it there were no complaints.
 
Value –
The Choiix Comforter will run you about $15 from most e-tailers. This is not that bad at all when you think about it. Although it does not seem to be made for adults I could see picking one of these up for my kids. My daughter especially loved it use and not only for her laptop. She also began using it to read and of other tasks that need a relatively stable flat surface. When you consider that most table tops for the couch or bed will run you around $20-30 $15 is not much to spend.

Conclusion -
The Choiix Comforter is a neat product. It does not seem to be made for adults (well at least not adults my age), but more for people ranging from their mid-teens to their late twenties. These are the high school and college years for most people. This ties in with the lifestyle feel that all of the Choiix products have. While I did not find using the Comforter enjoyable my daughter loved it and wants to keep the one I have. The Comforter also is not limited to just computer use; as I mentioned my daughter has begun using it for much more than just holding her netbook stable. She uses it for many other tasks as well. We will say that the Comforter is not for 15-17 inch books; although they do fit they are pretty unstable. However, when you take into account where and to who this product is being marketed to (teenagers and twenty something adults, mostly women) it is a good design and one that is marketed well.