Now just because you are getting a smartwatch oriented towards health and personal improvement does not mean you are losing anything. The new product is named angelhealth and will have a stainless steel body, full connectivity to a wide range of smartphones. You can get notifications on the watch like everyone else's' and can do a few additional things that many do not.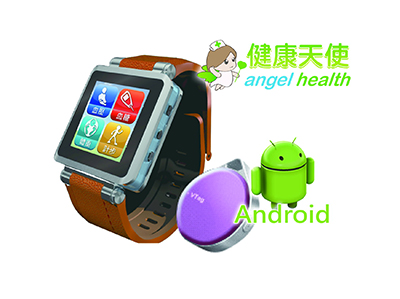 You get a nice feature called the Health Center. The Health center allows you to track things like calories burned, steps walked or distance traveled. You can also track activity and sleep patterns. The Bluetooth that the angelhealth uses can connect with a wide variety of Bluetooth enabled biometric devices. These include blood pressure, glucose, oxygen and more.

The specs are fairly normal with an IPS display (240x240) WiFi, Bluetooth 3.0, G-Sensor, gyroscope and runs Android 4.1. However, there are two things that make the angelhealth a little out of the ordinary. The first is the built-in WiFi and the second is the claim of 12 days of battery life.
According to Guidertech they are trying to make this a more fashionable choice instead of one that is only driven by technology. They will be offering multiple colors and wristbands which might appeal to a broad selection of users. Guidertech is also making another watch called the angel care. This one is supposed to be aimed at the elderly and includes some handy features like a built in GPS and Cell Phone. This last item will be very unique indeed.



As of right now there is no word on when these will be released or what countries. We are hearing that the US could be included, but if it is it will be later rather than sooner. There is also no word on pricing yet. As we said before the smartwatch market is going to be getting very interesting over the next few months.

Tell us what you think in our Forum


You can read the full press release here