The Box and Goodies -
There really is not a box here to talk about. The packaging is a plastic blister pack. Kingston has put Rex in the left side of the backing (in case you needed more brand recognition). The name and purpose of the MobileLite G3 is plain to see as well. One important item on the front that is just visible in the shot below is the 2-year warranty. We also have included in the picture the Ultimate XX 233X 16GB SDHC card that we used for the majority of our testing.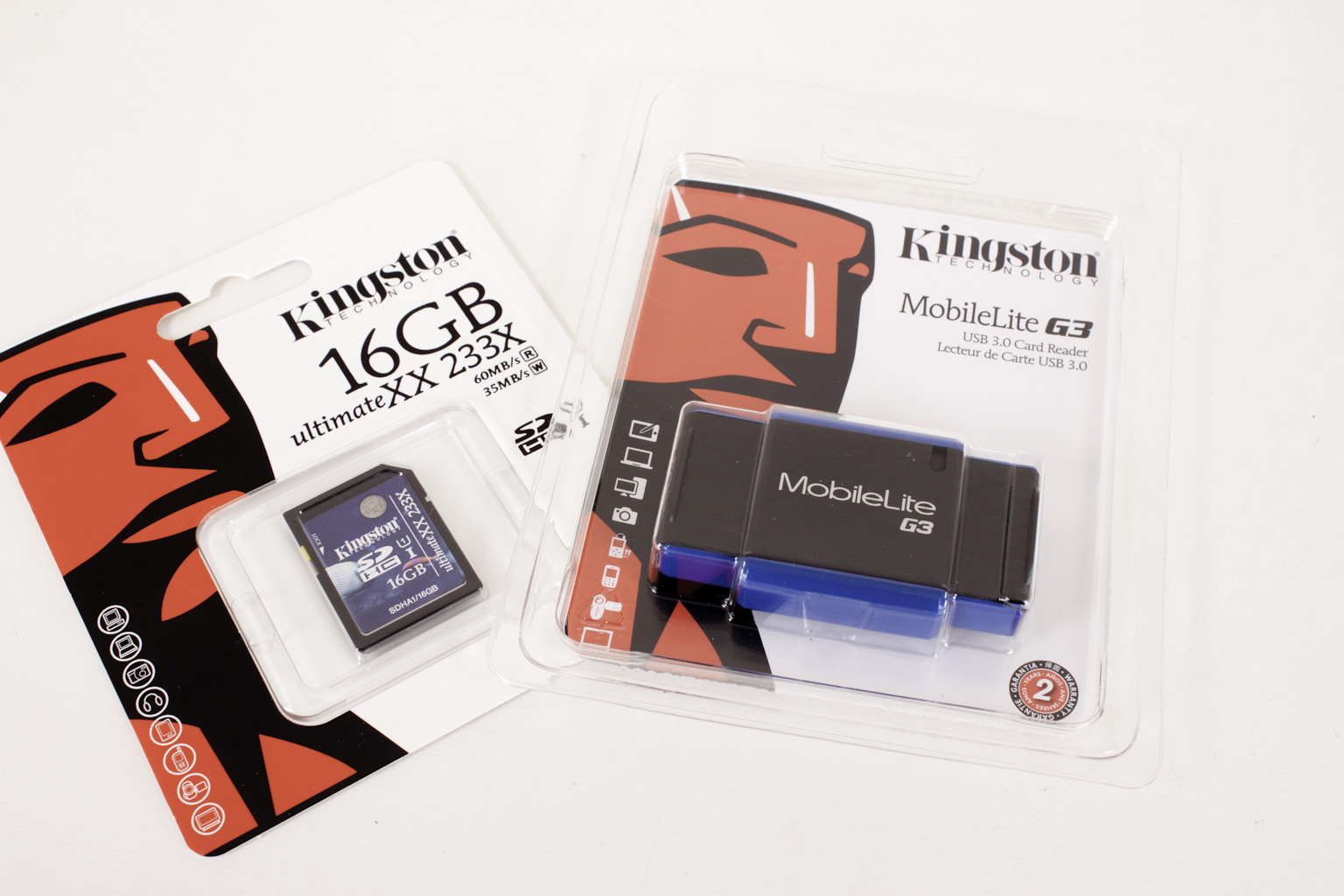 The back is nothing special and other than an interesting diagram showing how to use the MobileLite G3 there not much to talk about.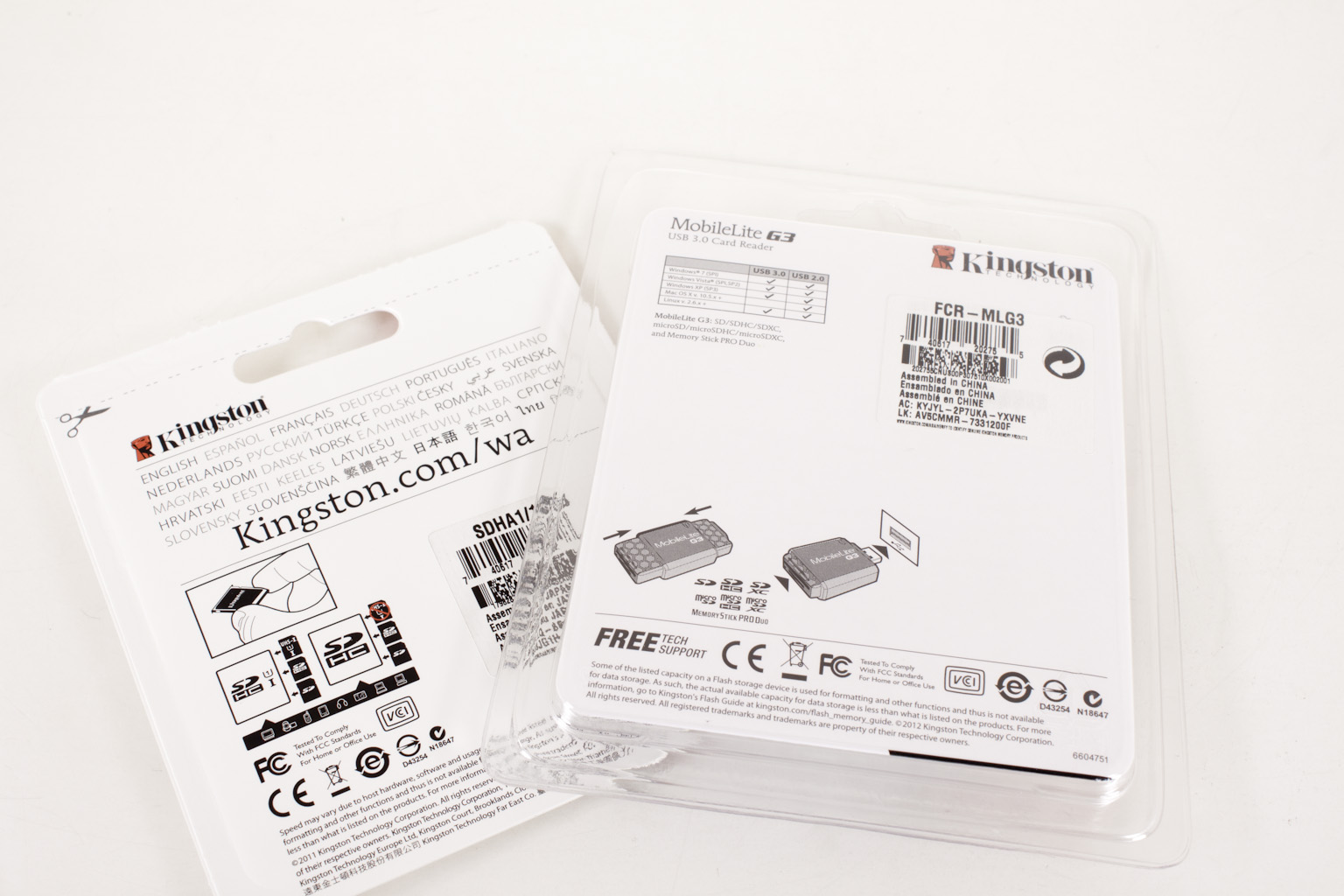 The Kingston MobileLite G3 with 16GB SDHC -
The MobileLite G3 is, as we mentioned, a USB 3.0 device. It is also not much bigger than many of the larger capacity USB flash drives. When you first pull it out of the packaging both covers are extended to protect both the USB plug and the ports in the card reader.
You can slide these back to make things easier to use (you cannot plug it into a USB port without sliding at least one end back. The other end can be retracted to make it easier to insert a media card and then slid back out to keep it in place and from be damaged by an accidental bump.
Unfortunately we were not able to pry apart the MobileLite G3 to find out what USB 3 controller is inside. This means that we do not have a baseline estimate to work from here without doing a little guess work. We could make the assumption that the controller here is the same one that is used in the Data Traveler series, but realistically it is doubtful they are using that same model. It looks like we will have to find out what the performance baselines are the hard way (but the way that is much more fun).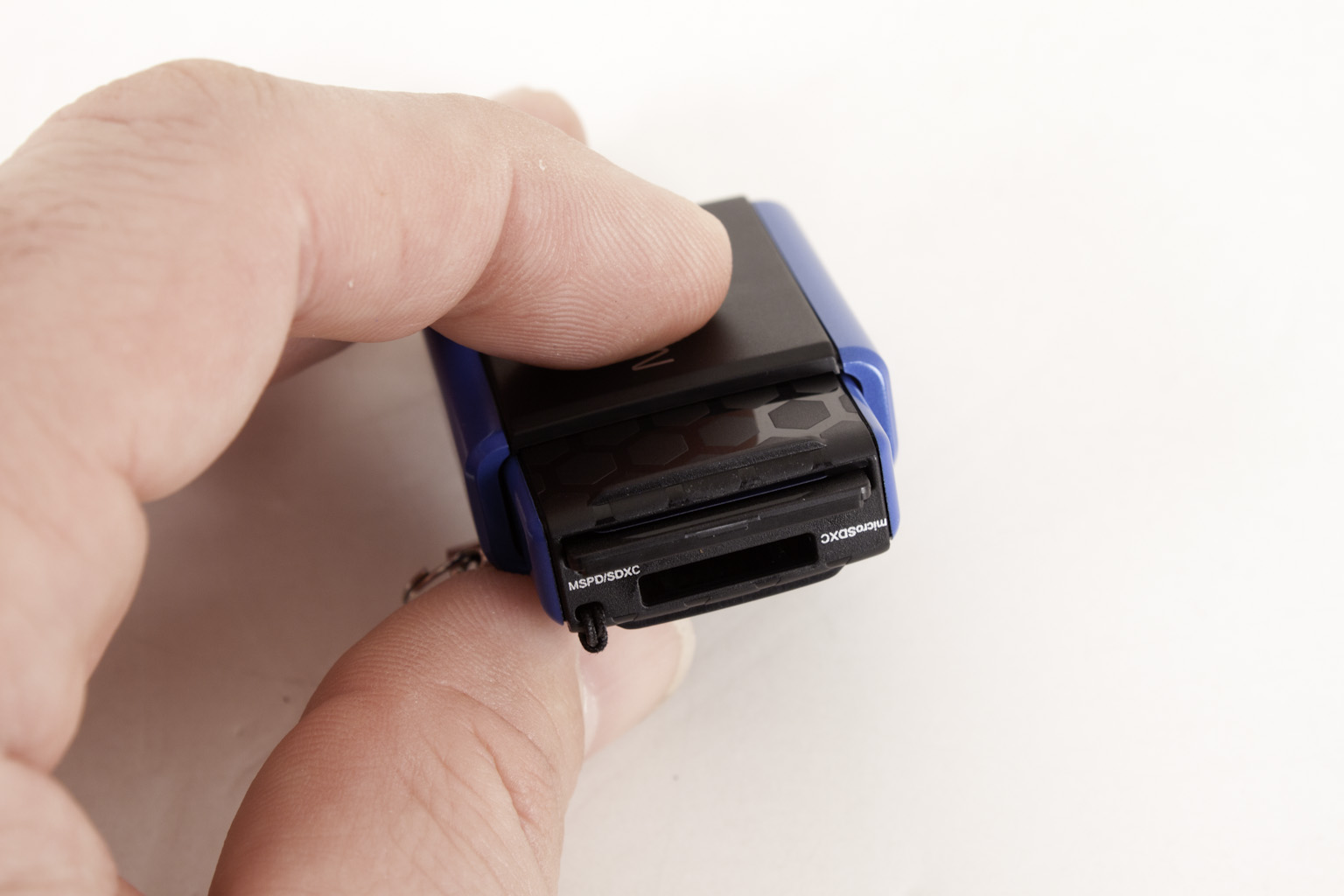 Performance -
Testing the performance of a drive of any type is a pain. Sure you can get repeatable numbers using a few of the more readily available testing utilities; Sisoft's SANDRA, HD Tune, PCMark7's Storage Suite, AIDA64, and others. The performance on the MobileLite G3 when plugged into an NEC USB 3.0 controller was solid. We were more than happy with the results that we got considering we were looking at an SDHC card (which does not have the same speed as native flash memory like a USB flash drive).

Sisoft SANDRA -
The storage tests in SANDRA cover the range of IOPs (Input/Output operations per second) to actual data transfer rates based on an aggregate or average rating. We use this for a baseline for the rest of our testing.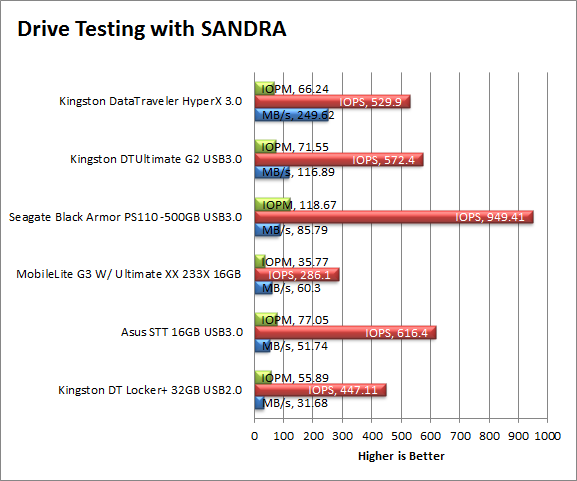 As you can see from the table above the MobileLite G3 when paired with the Kingston Ultimate XX 233X 16GB SDHC card does very well. Although (as we said) it is no match for traditional flash media it makes a very strong showing here.

AIDA64 -
AIDA64 does a great job of showing the different levels of performance for different read functions. This allows us to establish a clearer baseline for the rest of our performance comparison.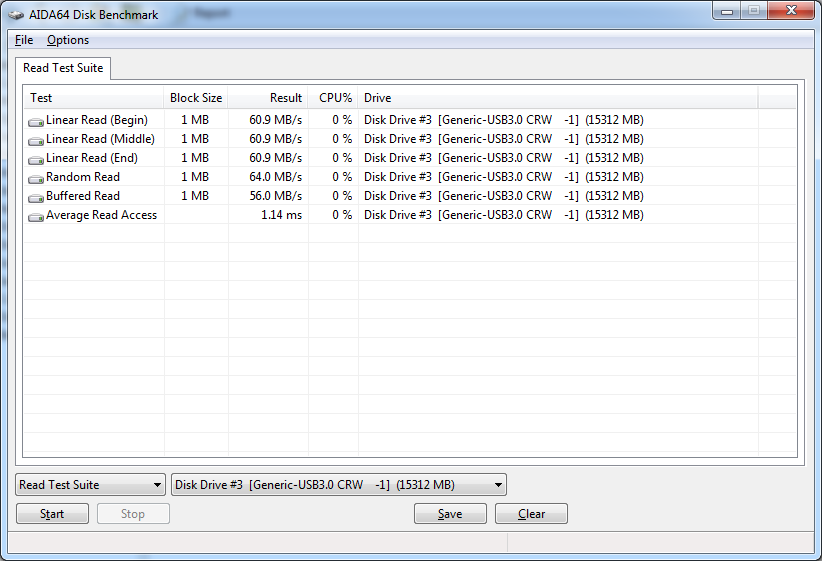 As you can see here the performance was pretty good across the board with a solid 60MB/s in all but the buffered read testing. This is very good performance considering you are working with a reader instead of native flash memory.

PCMark7 Storage Tests -
The PCMark 7 suite of storage tests is fairly intensive and includes scanning for malware, moving images, a video editing script and more items that require good HDD read and write speeds each one of these has its own transfer rate that will be recorded and combine to make up the overall score.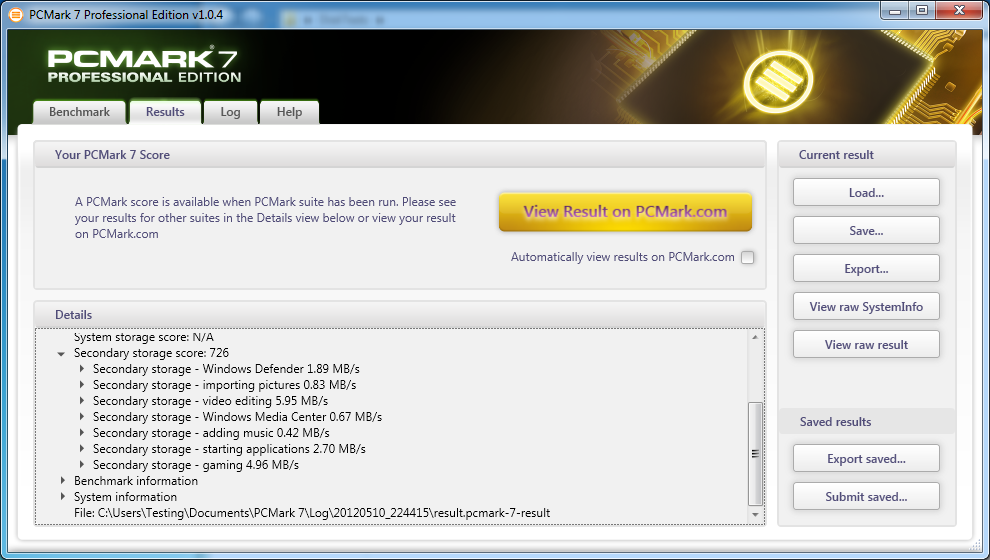 Our Storage testing with PCMark07 shows that there are some items that are just going to hammer at the controller in the MobileLite (and also at any SD card you put in). You can see that write functions are seriously impacted (picture and music transfers) while read functions do significantly better.

HD Tune Pro 4.6 -
HD Tune Pro is another application that can give you the run down on your HDDs it performs both read and write tests although its write test is destructive and cannot be run on a drive that contains any partition information. For our testing here we ran both the read and write tests and recorded the average transfer rates.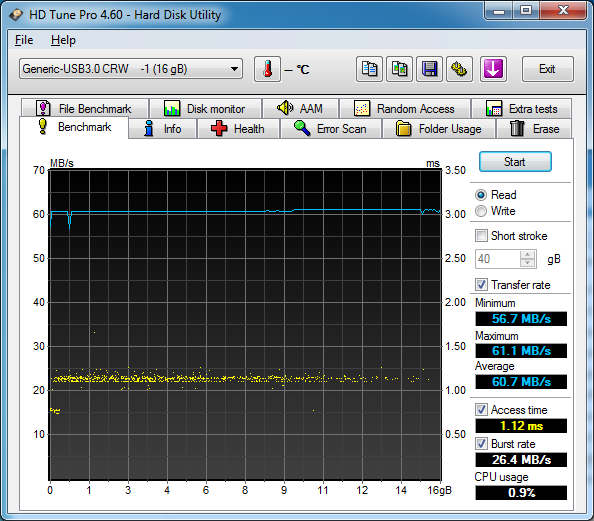 HD Tune also backs up the other read speeds that we are seeing which gives us a range of 50-55MB/s on the Kingston MobileLite G3 when using the Kingston Ultimate XX 233X SDHC card. Performance may vary with other media types, but we do know that running this same card through the SD card slot on our Asus EEE Slate does not get us near the 50MB/s mark. We typically hit about 42-45MB/s max with that reader.

In general usage we found the MobileLite G3 to work very well for both video and image transfers. It exceeds the performance of any of the built in card readers we have and is much more flexible for desktop use.


Value -
Value is another very subjective topic. What is expensive to some might be a deal to others. You can look at this topic in multiple ways. One is raw price and the other is what you get for the money. Each is accurate and both are correct ways to look at price/value. We tend to look at features, performance and real-property when we discuss value. However, we also take into account the raw cash cost of the item. The USB 3.0 sporting Kingston MobileLite G3 will run you anywhere from $9.00 to around $15. In some cases you can get the MobileLite G3 with a 16GB SDHC card for under $20. This is quite a nice price for a small (ultra-portable) media card reader that has the level of performance that we see here.

Conclusion -
Ok so what is not to like about having something like the MobileLite G3 at your disposal? If you are a photographer, videographer, Smart Phone user (the ones with the MicroSD Cards) or even for older PSP users this is a great product. We have already found it indispensable in our lab as we move tons of video and photographs between our cameras and the render system. Kingston has a great product here and one that we feel will gain quite a bit of traction in the market as more and more people look for better ways to move their images and video around (and to back up phones). Although USB 3.0 is primarily on desktops right now, once we see it become more prevalent in the mobile market the MobileLite G3 will certainly be a popular one-size-fits-all solution.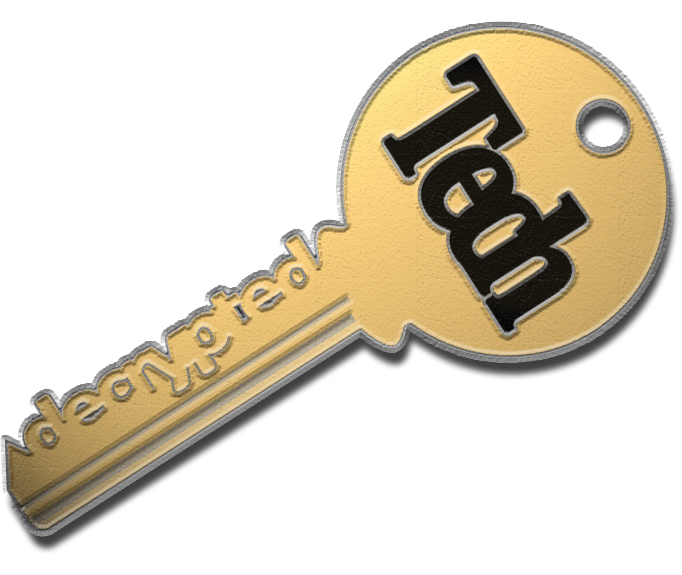 With its performance, flexibility and very inexpensive cost the Kingston MobileLite G3 earns our Gold Key award.
Discuss this in our Forum