The Box and Goodies -
The P67 Sabertooth's box has a look that goes with who it is being marketed to (that would be the enthusiast crowd looking to endurance and performance). The brushed metal look is intended to give an impression of solidity and toughness. Asus also made sure that you knew this is a B3 stepping product. Under the front flap we find the high lights. Asus wants you to know that they are putting a great deal of thought into these boards and have chosen components and features to match (in a way following another company we know). We will cover these items in the features section of the review.
The back still has the same steel look too, like you are looking at a metal box. There is a color image of the Sabertooth and four additional images of what Asus feels are features that are of the most interest to potential buyers.
Inside the box is a light haul of goodies in terms of real items but you get a large amount of documentation about the Sabertooth. There is a booklet describing the 5 year warranty available on this board along with the certificate that describes the testing that goes into the components. Most of these are military compliance tests (the tests that these parts have to pass to be in military equipment). Now I know the running joke is "never forget that your gear was made by the lowest bidder" but I can say that having been in the military before the electronics we used while slow, and very often bulky and ugly, hardly ever failed due to a component going bad. Asus has also included a special manual about the Thermal Radar application and Digi+ VRM system built into the Sabertooth.
The Layout -
The layout of any motherboard is important. Even simple mistakes in component placement or the signal traces can cause major issued in performance and stability. With the ATX form factor we find that this is even truer; the devices we drop onto them demand more and cleaner power while the signal speeds push faster and faster. The first thing that stands out about the Sabertooth P67 is that it is covered by a plastic shell. Asus calls this Thermal Armor and it is intended to make sure that heat from the board and heat from the components do not mingle (it also ensures that air from any CPU fan is pushed around the board for the best cooling effect.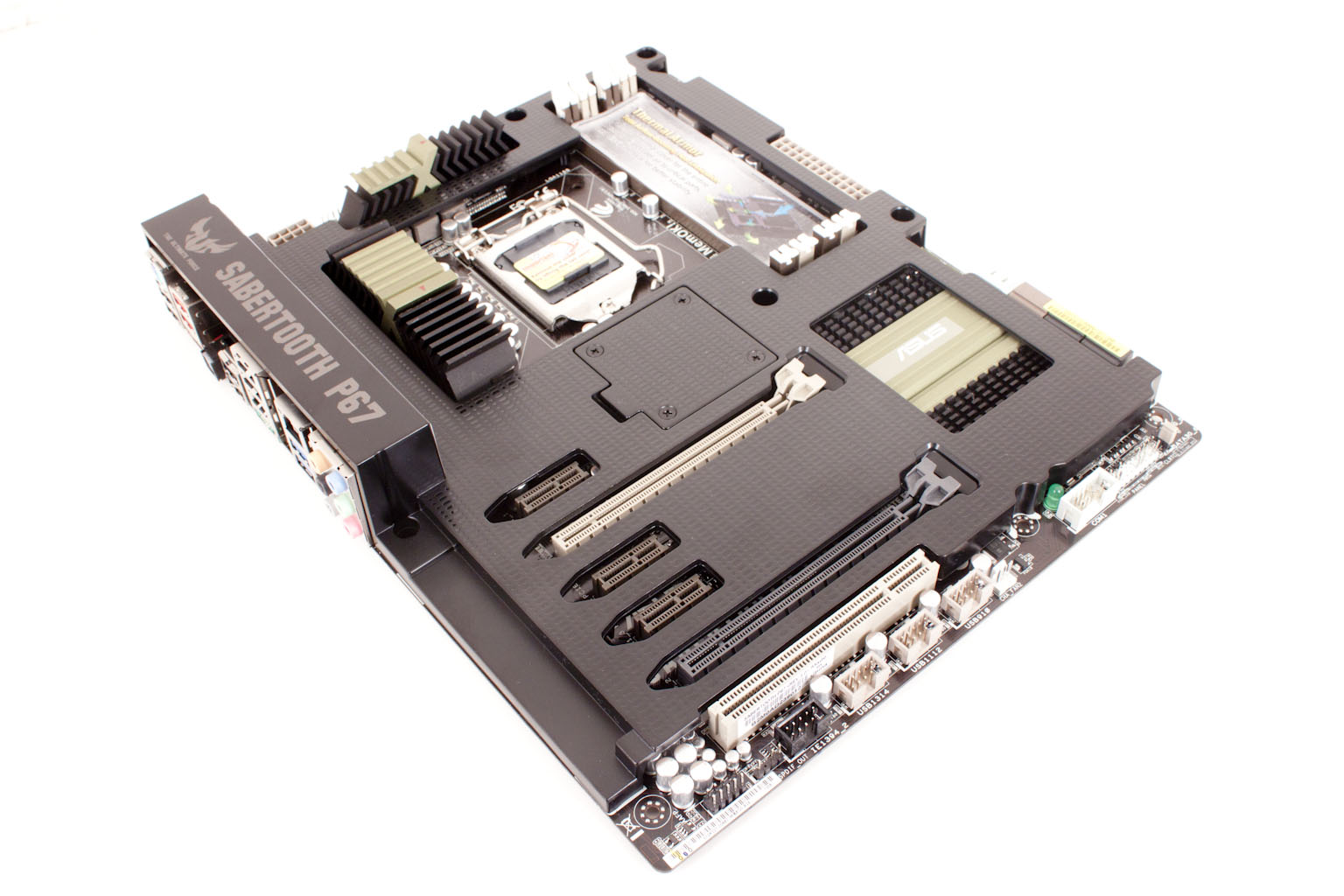 Moving back to our normal starting point we find a sticker about the Thermal Armor that we were just talking about (and that you cannot miss). This is on top of the RAM slots which are left exposed through the Thermal Armor. There is not a whole lot to see with the cover on though. The CPU is also left pretty exposed as is the area between this and the RAM. We can also see a row of solid caps. Right behind them we can see some chokes. They have a couple of chevrons on them these remind me of corporal's stripes and tie in with the military theme. The Heatsinks over the power regulation components (MOSFETs etc) are of an interesting design and are coated with a material that is supposed to allow for better heat dissipation. The extra 8-pin Aux power connector is also located up here along the upper edge of the board. This placing makes is a little easier to reach unless you have the board mounted in a smaller case.
| | |
| --- | --- |
| | |
Moving down to the lower half of the board I we find three PCIe x1 slots, two x16 mechanical slots (these operate as x8 if both are populated), and a single PCI slot. Swinging the board around we find the SATA ports. With the Sabertooth P67 you get a total of eight ports. Four are SATA II and four are SATA 3.0; two of these SATA 3.0 (the brown ports) are run right from the B3 stepping Cougar Point while the other two are controlled by a Marvell controller (the gray ones). Right next to the bank of SATA ports is a USB 3.0 header for any front USB 3.0 headers.
Looking at the I/O ports (these are still under the Thermal Armor) you get a typical array of ports. Nothing fancy really, but more than enough to satisfy most people's needs.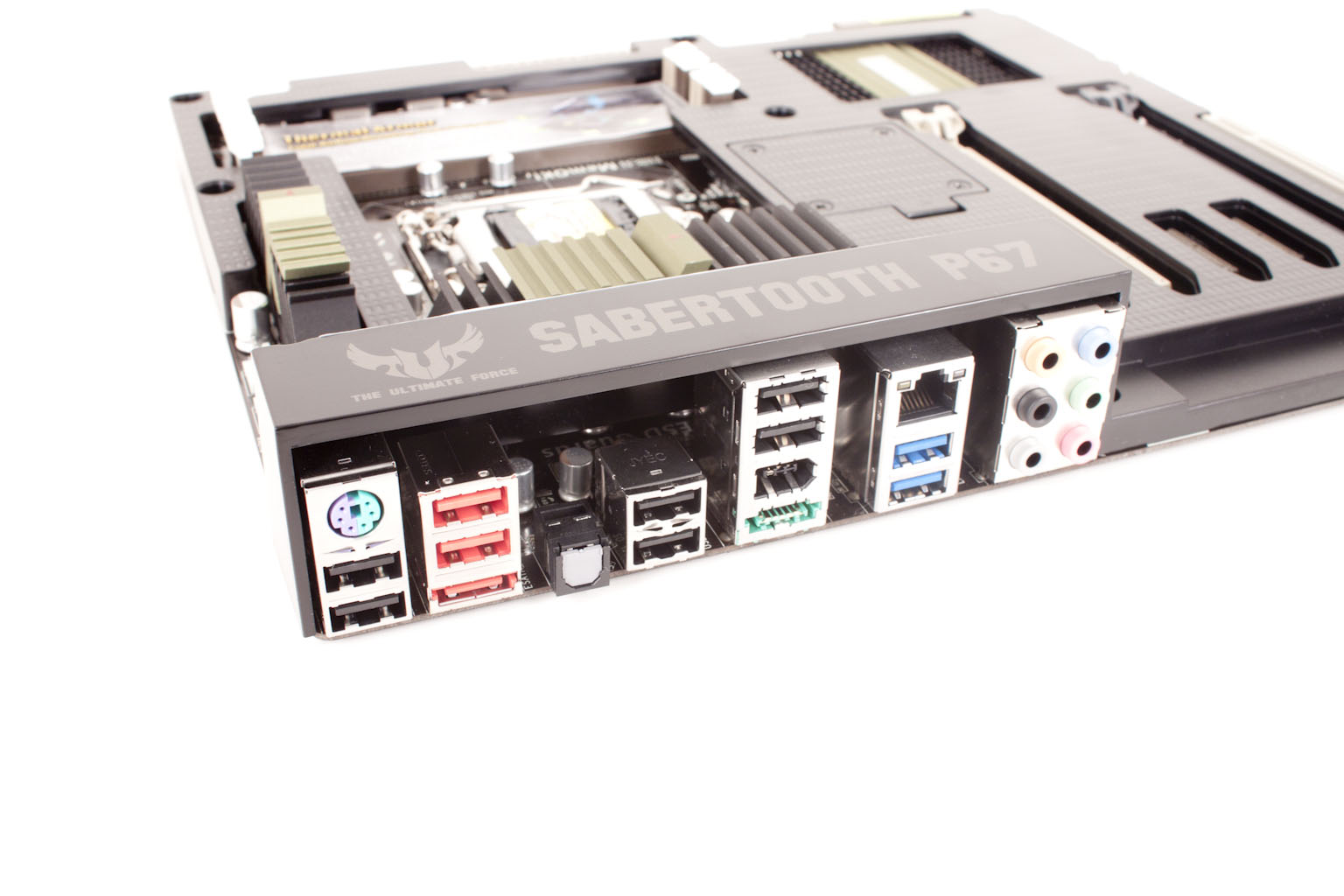 Now that we have taken a walk around the board with the Thermal Armor on we are going to look at the Sabertooth P67 with its clothes off. When we look at the Sabertooth we find that Asus has made sure that the components (especially the Capacitors) are well spaced to ensure that heat does not build up too much. They also put an interesting group of mount points; when you look at this with the armor on you see what looks like a hatch. This covers up these four mounts which are here for a fan to assist in keeping the Sabertooth cool if you decide on water cooling for this board.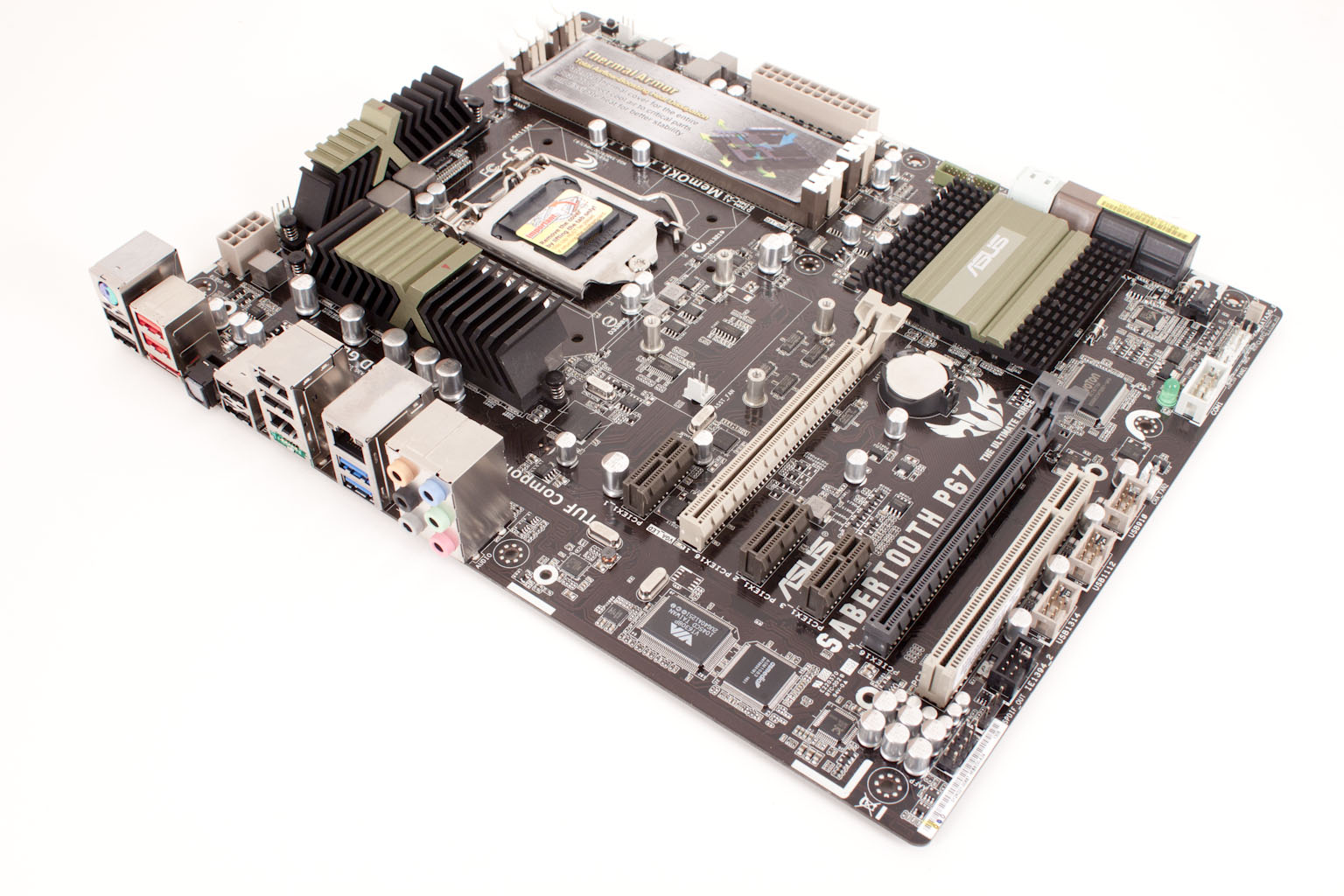 In general the Sabertooth is well designed; it is not exciting like an ROG board, at least not in the traditional sense, but it is intriguing and it makes us wonder what type of performance we are going to see and how much punishment this would take in terms of heat and other stressors.
Features -
In the current market motherboard (and indeed almost all components) performance is very close. The days of a large performance advantage between boards using the same chipset are long gone. That is unless someone makes a HUGE mistake (like runs traces completely wrong). Now, the thing that differentiates different products is the features. These are things like power management, extra slots, better audio CODECs etc. It is these items that R&D teams work so hard to drop into what are really identical pieces of hardware at their most basic level.

The Sabertooth P67 is not feature rich in the traditional way. It has more than its share of features, but these are all based on the endurance built into the board. So let's look at what Asus has built into it and how they apply.

Excellent -
Thermal Armor Combined with Thermal Radar
TUF Components (Mil-Spec)
DIGI+ VRM
Server Grade Components
Five Year Warranty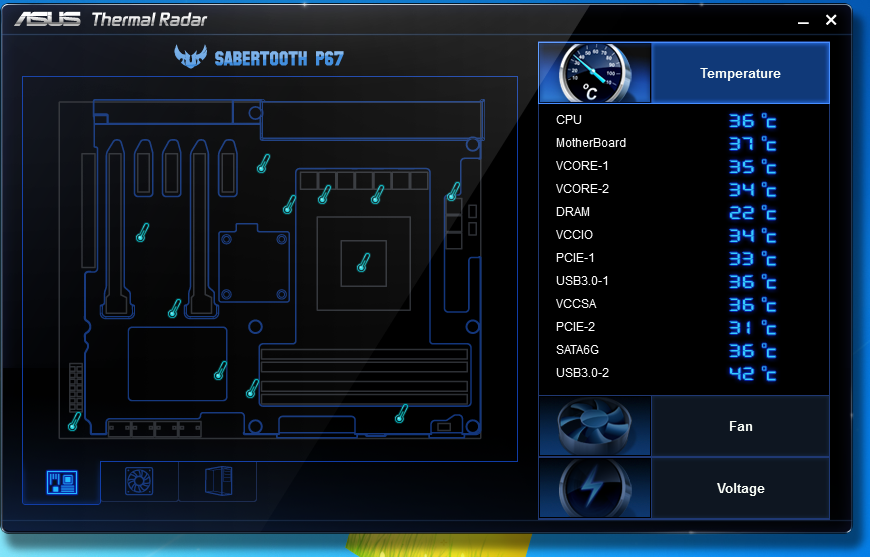 These features all center around the endurance that Asus has built into the Sabertooth. However they are excellent in terms of design philosophy and product longevity

In the middle (sort of good) -
EFI BIOS
AI Suite II
Multiple 4-pin Fan headers
Additional Board Level Cooling Mount
CrossfireX/ SLI
These are nice extras but are not items that are going to push things over the edge for a buying decision.

Floor Mats -
Q-Connectors
Q-DIMM (the one armed RAM slots)
Q-Shield (The padded I/O cover)

This last list included most of the features that are non-product specific. Some of these are even popping up on other manufacturers products under different names. Again they are nice, but are not deal makers or breakers. We will cover some of these features more in their proper places but for now you can see the listing of what we see as real and what is filler or brand wide.
Conclusion Part I -
The Asus Sabertooth P67 is a simple motherboard. Asus has made it this way tor multiple reasons. If you complicate a board you increase the amount of power needed to push things. From a design stand point the Sabertooth has some great choices. Asus is using solid components that should not only last longer than the average part, but on the other side they should also be able to handle more punishment (pronounce that overclocking) as well. The Thermal Armor idea is a great one and can be used when air cooling or water cooling. Of course this part of the review is something of a teaser, we know that you are really looking to dive into the performance of this just as much as we are. We will be publishing this very soon, for now though we have to say that we are impressed with the design and build quality we are seeing.

Discuss this part of the review on our forum