For those of you that do not know who Synaptics is – well, we will give you a very quick background on them. Synaptics was founded in 1986 as a neural network research company (hence the Synaptics name) and quickly evolved into a human interface company with a load of technology that most use, but seldom realize. If you own a notebook there is about a 60% chance you are using some of Synaptics technology, while owning a touch-based smart phone also means you are likely using one of Synaptics' inventions called the clear pad. In fact, one of the key items often used to counter Apple's claims of inventing the touch based smart phone: the LG Prada uses the Synaptics ClearPad.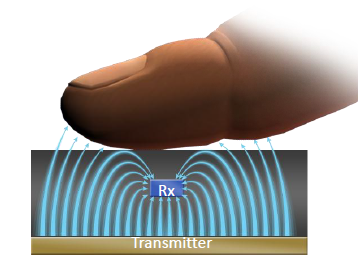 However, all of these technologies are based on something called capacitive sensing technology. This means that it can detect shifts in the electrical field as your finger gets closer to, or touches the actual pad. The technology used to enable capacitive touch consists of rows of sensors called transmitters and receivers. When your finger gets close, it changes the waveform between them. In simple terms the finger interrupts the field between the transmitter and receiver which reduces the capacitance and indicates a "touch".


Now, this technology is good and has improved significantly since its introduction, but there is still more that can be done with it. For example, right now touch pads do not detect pressure, but estimate it by the difference in the area of connectivity of the finger or capacitive device (when you press down harder your finger spreads out). Even the ClickPads that allow you to have a pad without required mouse buttons does not register the pressure of someone's touch.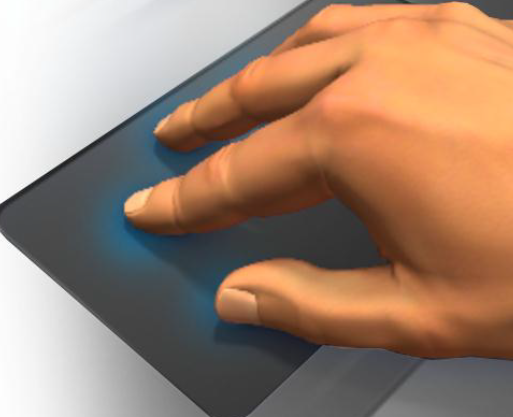 This is where the ForcePad comes in. In addition to the regular controls for x and y, Synaptics has added a third control that can register the force used by up to five fingers. The new sensor can be integrated into either a note/ultrabook and also as a USB device (this is where it can help Windows 8). It is capable of automatically calibrating itself to cover any changes in the chassis (flexing or bending). This problem is becoming more common as notebooks get thinner. You can see it when you pick up a notebook or ultrabook by a corner; the device will bend due to the difference in support and weight across the frame. ForcePad will be able to detect up to 2 pounds of pressure depending on how the technology is put into the device. You can also adjust this through 64 different levels for each of the five fingers in 15 gram increments.
The practical upshot of this for the OEM and the consumer is thinner touch pads, no need for mechanical buttons (and therefore no dead zones) and an easier method for identifying a "click". It will make the use of the touchpad similar across multiple platforms while eventually reducing manufacturing costs.
Synaptics has also been a partner with Microsoft during the development of Windows 8 so they have built much of their technology to work with this OS. On the other side, they made very strong indications that ForcePad could also be beneficial to gaming. Can you imagine being able to run faster in a game based on the pressure you put on your Touchpad or the power behind your tap making your grenade go farther? There are multiple applications for this technology to enhance gaming in laptops, although we wonder if it will become more of a companion to the mouse instead of a primary device.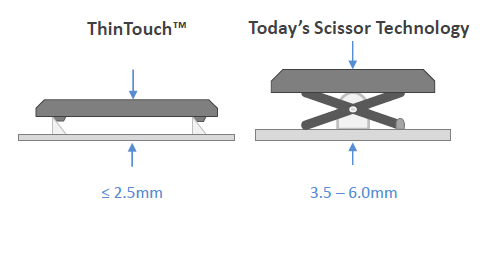 In addition to the ForcePad, Synaptics also talked about a new technology called ThinTouch. This is a new keyboard technology that will make packaging a keyboard into a thin and light notebook simpler. The technology ends up being 40% thinner than the typical scissor switch that is common today. The technology uses some of the same technology that is used in capacitive touch screens and can be combined with this and ForcePad with some rather impressive effects. According to Synaptics simply incorporating ForcePad can help make a notebook 40% thinner and increase battery life by up to 17%. Including ThinTouch can slim down your notebook by 50% and give you an extra 34% battery life while giving a manufacturer more room for larger batteries and better cooling.
While talking about ThinTouch and ForcePad in combination, we wonder about the two in gaming notebooks and how they would compete with the popularity of mechanical switch-based keyboards and high-precision mice. Synaptics felt that ThinTouch would be able to compete in terms of performance and that they would look into the possibility of adding in N-Key Rollover. This last item is something that is very important to many gamers. With N-Key rollover you can hit multiple keys at once without them stacking up. Most of your common keyboards do not support this and even some mechanical keyboards skip over it unless you are connected Via PS/2. If Synaptics can implement N-Key rollover, backlighting, pressure sensitivity in games and keep making things thinner, they will certainly have an interesting combination to sell to OEMs that are looking to make mobile gaming products. I know that we would be very interested in testing some of these out to see what they bring to the table.
Even outside the gaming equation, ForcePad and ThinTouch will be bringing something new to the mobile world and we expect them to add a new dimension to future software products as well. We wonder if we will see commercial keyboards based on ThinTouch and ForcePad coming out to help with Windows 8 acceptance on the desktop, especially considering Synaptics relationship with Microsoft. Things will be very interesting indeed when products based on these technologies hit the market.
Discuss this in our Forum