Displaying items by tag: AM3
Tuesday, 02 August 2011 22:44
Hyper 612 PWM CPU Cooler – Immense Power and Control
Chino, California – August 2nd, 2011
- Cooler Master, an industry leading chassis, thermal solution, peripheral, and accessory manufacturer, unleashes the overwhelmingly powerful Hyper 612 PWM CPU Cooler. Striking a delicate balance between cooling potential and noise, the Hyper 612 PWM outperforms all-in-one liquid coolers and high-priced counterparts alike while maintaining minimal noise levels.
Innovative design and materials
The Hyper 612 PWM CPU Cooler is designed for optimum heat dissipation at low fan speeds thanks to wider fin gaps, a PWM fan with a special fin blade design, and a precise heat pipe layout that directs each of its six heat pipes across CPU "hot zones". Employing this unique heat pipe layout allows the heat pipes to multiply into twelve virtual heat pipes that cool the hottest parts of the processor.
Easy installation of fans and dual fan design options
Break the bonds that tie you to wire clips and fan screws with the included quick-snap brackets. With these brackets changing, adding, and cleaning fans becomes a simple matter of a few moments to remove and reattach everything. Those with more extreme cooling needs may attach an optional second fan with the extra included quick-snap fan bracket. The Hyper 612 PWM comes equipped with a high performance PWM controlled fan that can be adjusted via BIOS or OS-based motherboard tuning applications. Be it overclocking or stock speeds, PWM enables the included fan to become a versatile cooling option that tailors noise and performance to any need.
Specifications
Product
Hyper 612 PWM
Model
RR-H612-20PK-R1
CPU Socket *
Intel Socket LGA1366 / 1156 / 1155 / 775
AMD Socket AM3 / AM2+ / AM2
Dimension
140 x 128 x 163 mm (5.5 x 5 x 6.4 inch)
Heatsink Dimension
136 x 100 x 163 mm (5.4 x 3.9 x 6.4 inch)
Heatsink Material
Copper base / Aluminum fins / 6 Heatpipes
Heatsink Weight
806g (1.78 lb)
Fan Dimension
120 x 120 x 25 mm (4.7 x 4.7 x 1 inch)
Fan Speed
600 – 2000 RPM ±10%
Fan Airflow
24.9 – 82.9 CFM ±10%
Fan Air Pressure
0.3 – 2.7 mm H2O ±10%
Fan Life Expectancy
40,000hrs
Bearing Type
Long Life Sleeve
Connector
4-pins
Noise Level
9 - 36 dBA
Rated Voltage
12 VDC
Operating Voltage
6 – 13.2 VDC
Rated Current
0.22A **
Input Power
2.64W
Fan Weight
104g (0.23 lb)
* For the latest CPU support information, please visit our website.
** Tested and certificated under a safety current of 0.37A.
About Cooler Master
Cooler Master was founded in 1992 to provide the world's best thermal solutions. Since its establishment, the company continues to invest in product development to provide leading-edge innovations. Cooler Master's line-up includes heat sinks, fans, chassis, power supplies and computing accessories. Headquartered in Taiwan with branch offices located across Europe, America and APAC, Cooler Master offers unsurpassed service to our customers. For more information on Cooler Master, please visit
www.coolermaster.com
.
Thursday, 14 July 2011 21:06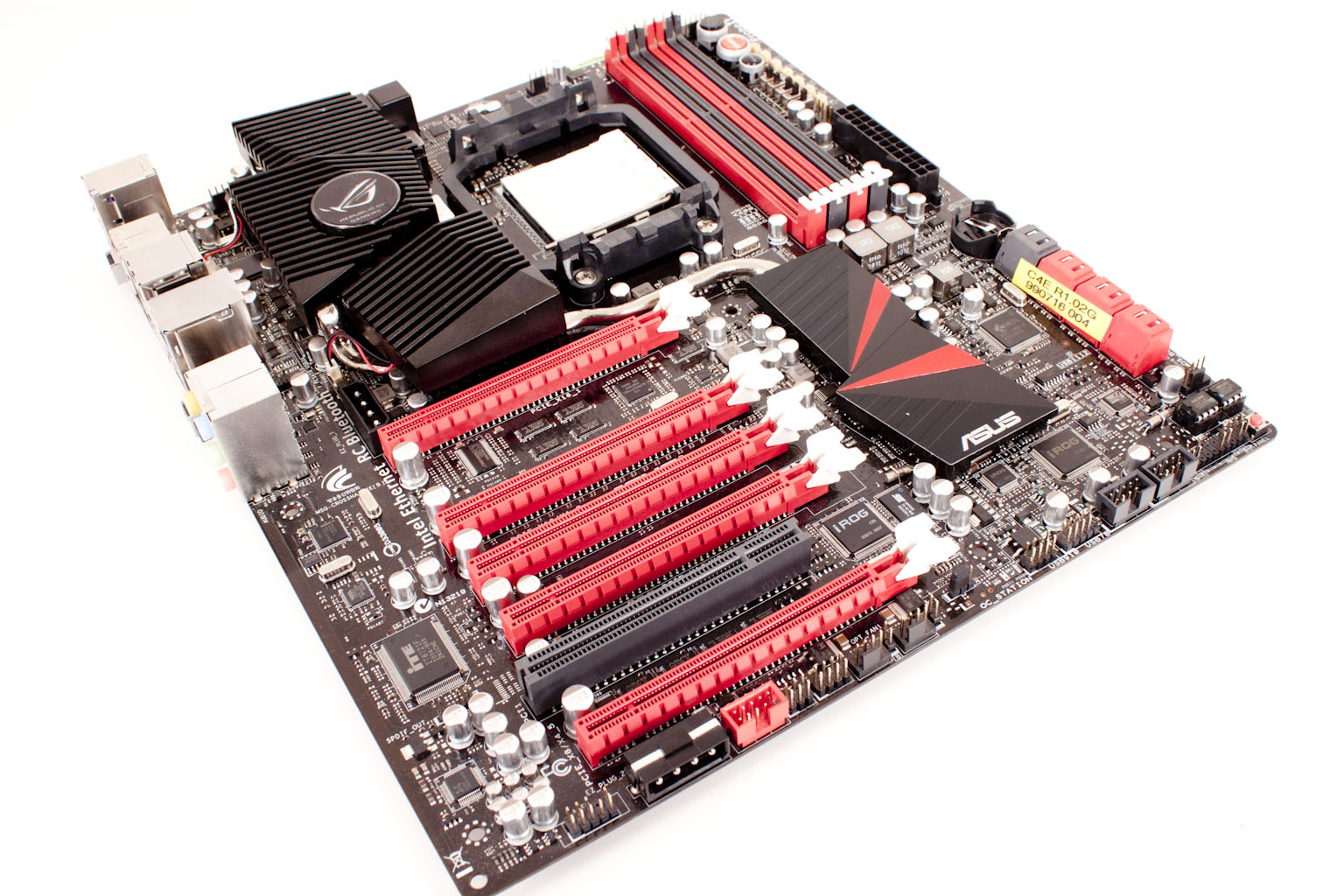 When you hear the term Crosshair several things come to mind. The first is probably the two lines that intersect inside the optics on a targeting scope (which were originally real hairs). The next could be the options in most of your first person shooter games. If you are an AMD enthusiast you might think of Asus' Crosshair line of motherboards for AMD CPUs. It is this last one that we are going to dive into and talk to you about today. The Crosshair line is fittingly named, as it relates to accuracy, and performance. Asus has worked hard to make sure these boards represent the highest level of performance for AMD CPUs. Although not the most current available we are taking a look at the Hydralogix enabled Crosshair IV Extreme. This is a $299 890FX based board with Lucid's Hydralogix multi-GPU technology hanging out on the board. We are going to look at its design and features today and will follow this up some single GPU performance testing shortly.