The Box and Goodies -
The Tizona comes in two trapezoidal boxes (if you get the optional number pad). In one is the actually QWERTY keyboard and the other houses the 10-key number pad. These boxes have just about all of the information you need to make an informed purchase. You get feature highlights as well as a picture of the products that are inside each, on the keyboard box you get an indicator of the type of switches you get. The product sent to us had Brown switches in it with no mention of if they were actually Cherry MX or not. Tesoro only lists them as gaming-grade.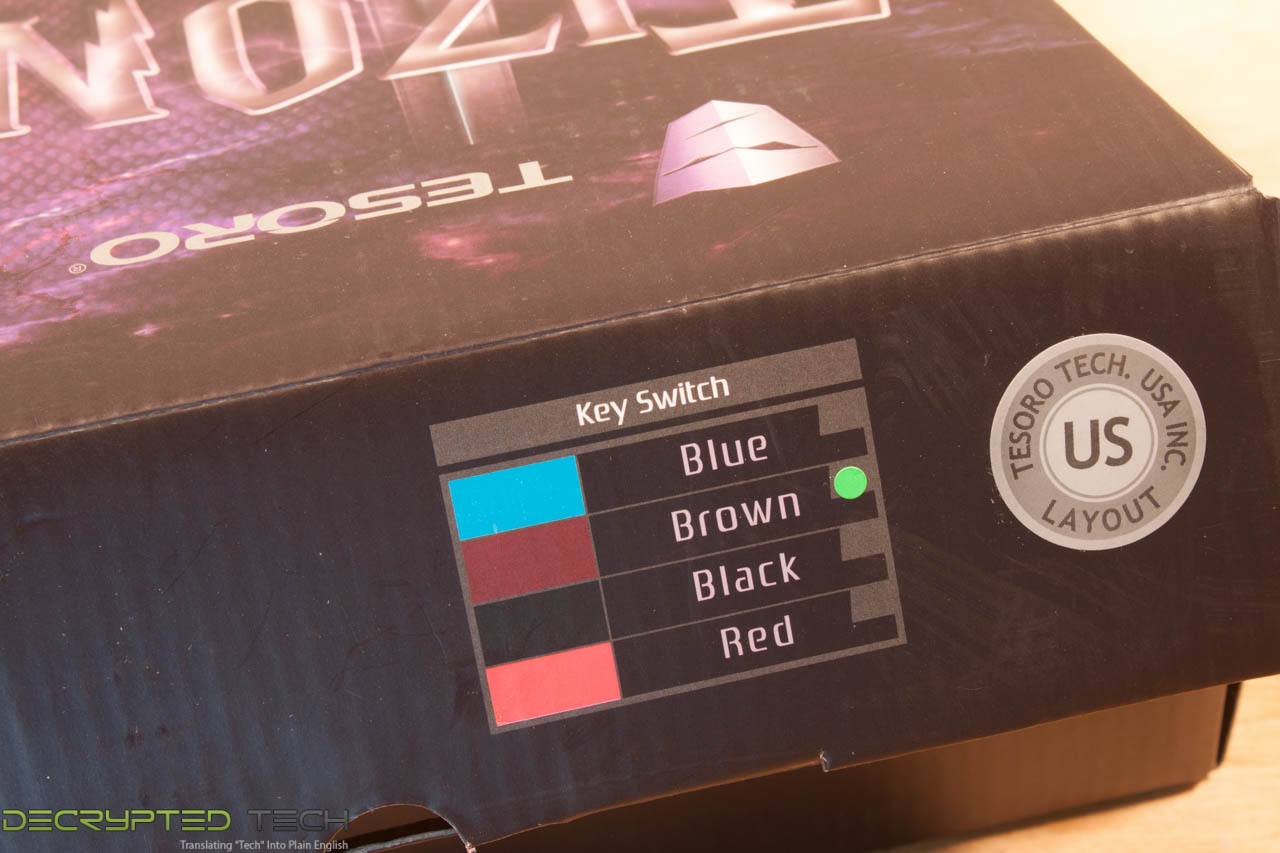 Once you dig into the boxes you find everything you need to get both of these products working. In the keyboard box you get a cloth braided, removable, USB cable as well as a USB power cable to give the Tizona a little more push. In the 10-key pad you get an extension cable just in case you want to use this further from the main keyboard or on another system like a laptop.
The Tesoro Tizona Gaming Keyboard -
For history buffs the name Tizona will have meaning for you. It is the name of a sword that legend says was owned by Rodrigo Díaz de Vivar, El Cid. It roughly translates to burning stick or firebrand. Tesoro has used this name (we would suspect) to indicate that you will have better battle prowess when using this keyboard.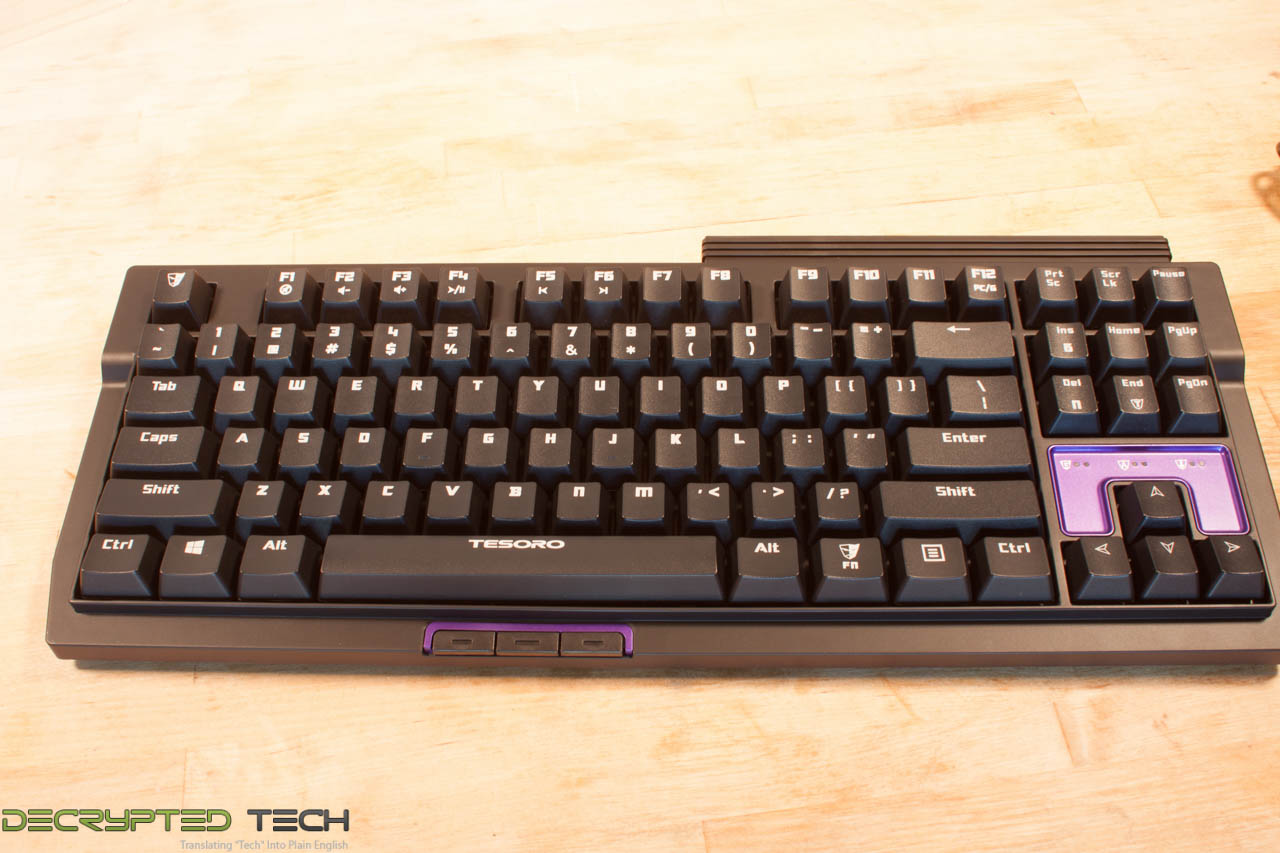 On the surface the Tizona looks like a fairly regular keyboard. You have the normal keys you would expect with only a few of them differing in their labeling. Tesoro also moved some of the indicator LEDs lower on the keyboard (and added a couple). You also get three thumb buttons for quick launch options. These function differently depending on the "mode" you are in. If you are in PC mode then these keys will open your default browser, your default media player and Outlook. In game mode these map to "/", "*", and "-" on the number pad in order from left to right. This allows you to bind them in your favorite games so that they are easier to reach.
| | |
| --- | --- |
| | |
As we mentioned before the Tizona comes in a variety of switch types (ours is brown) and also has two USB 2.0 ports, one on each side. For connectivity you get a micro-USB port and a detachable, braided USB cable. The connection polls at 1000Hz for faster command response. To make sure that you have sufficient power to the two USB ports Tesoro has thrown in a USB power adapter. You can plug this into any available USB port on your computer.
The Tizona is a 6 and full NKey rollover style keyboard although this is becoming more and more common with mechanical keyboards.
The rest of the features are pretty normal, padded rubber feet, extra weight to help keep is still, you know the drill.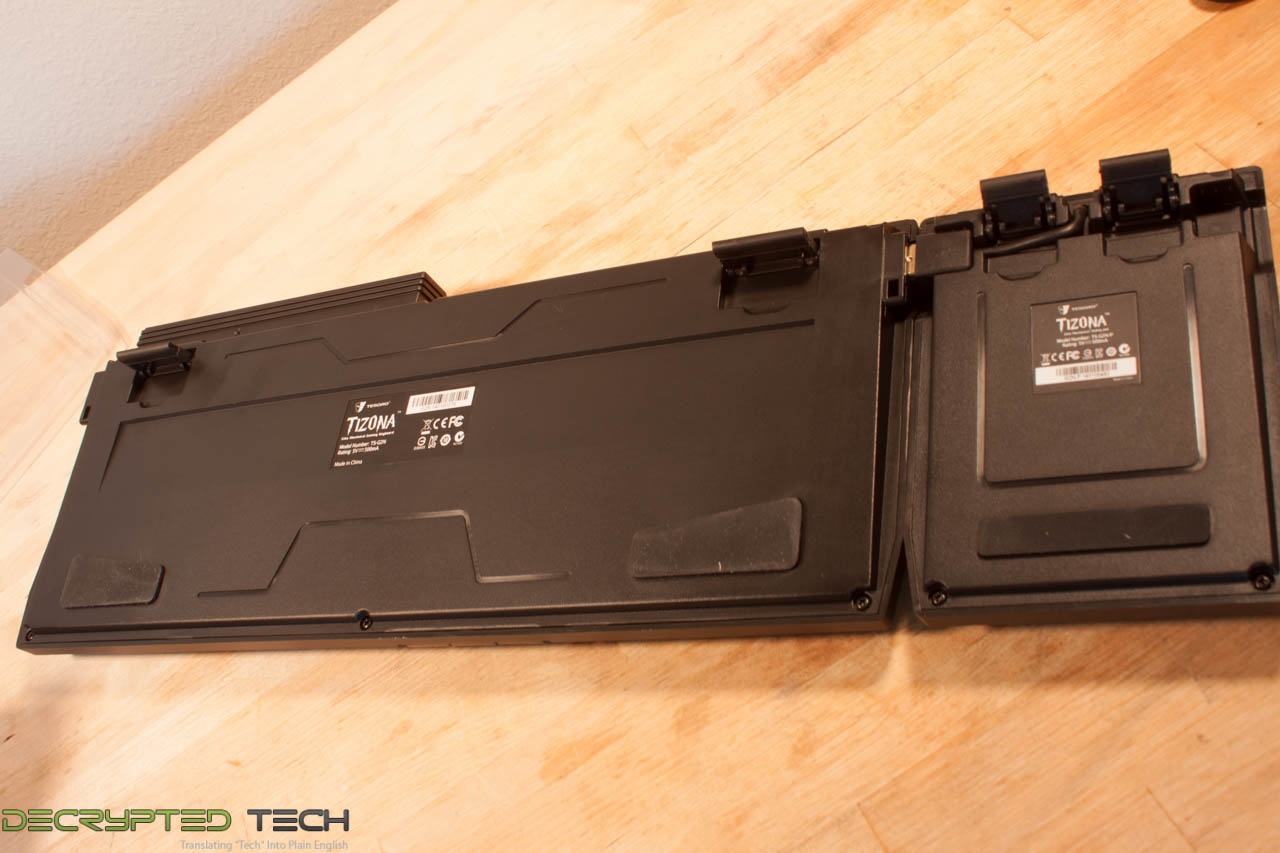 Of course there is one feature that is a little unusual and that is the optional number pad. This part of the Tizona can plug into either side via the USB 2.0 port and attaches using fairly strong magnets on the side. It also has mechanical switches (ours were brown again) and can run in either 6 or full NKey rollover mode.
Although its primary purpose appears to be as an addition to the Tizona, this number pad could also be attached to any system via a braided detachable USB cable (1000Hz polling rate). It is a pretty slick add on when you think about it and also drops in a little bit more customization for your gaming area.
Both the keyboard and number pad have the same specs for actuation and response. (45g for actuation and 2mm for response) key press length is 4mm to the bottom. These are fairly common specs across most mechanical keyboards.
Performance -
Testing the performance of a keyboard is… well different. The only real way to test it is to repeat the same tasks across a range of products and see how each feels when using it. For our testing we like to use the tasks of gaming and writing a document (we typically write part or all of the review on the test board). These two are the most basic tasks that we ask of our keyboards when you come to think about it.
We try to perform each task for about an hour and then swap out another keyboard and repeat (this is done three to four times). It is a very long process, but in the end gives us a very good feel for how it performs for us. Sadly this "feel" is subjective and could be different for each person. In our notes below we will indicate if an issue is due to what we are comfortable with or if it is an actual performance issue (like lag etc.).
Sadly, neither the Tizona keyboard nor the number pad re backlit. This might hurt them if the price is not right for the pair of them.
Gaming –
For our gaming test we opted for two recent games, Watch Dogs and Wolfenstein, New Order. Watch Dogs is a third person game that requires a different style of control than the first person Wolfenstein. The Tizona did very well and had no product based issues. The responsiveness was solid and there were no problems with lag or control. Brown switches feel muddy compared to what we are most used to though so the overall feel of the Tizona that was sent to us felt mushy. This made the gaming a little awkward until we became used to the lack of real tactile response like you get with blue or red.
We also tinkered around with the quick keys and mapped them to the quick weapon switch, slide and also to grenade in Wolfenstein. This made quite an improvement in certain areas of the game.
Typing –
Under normal PC mode the Tizona and its attached number pad performed very well. The keys were responsive during the writing of this review and although we were not fond of them during gaming the way they felt under more regular usage was more than acceptable.
Value -
Value is another very subjective topic. What is expensive to some might be a deal to others. You can look at this topic in multiple ways. One is raw price and the other is what you get for the money. Each is accurate and both are correct ways to look at price/value. We tend to look at features, performance and real-property when we discuss value. However, we also take into account the raw cash cost of the item. The Tizona G2N compact keyboard will set you back around $89.99. This is around the same price you can find other unlit mechanical switch based, compact keyboards. You can also find some fully backlit keyboards with mechanical switches for this price as well. This is where the lack of back lighting will probably hurt the Tizona on the market. We were not able to find the cost of the optional number pad anywhere on the net in our region (North America) at the time of this writing. This means that the total cost of the Tizona could be quite a bit more than some products from the competition when you add everything up.
Conclusion -
The Tesoro Tizona is an interesting product with a nice twist to it. If you are the type of person that wants both the space savings of a compact keyboard and the option to have a 10-Key number pad then this is a product that will surely interest you. The dual modes of operation (PC and Game) offer flexibility when it comes to the quick leys. However, many people might be more interested in being able to program these keys with their own functions or macros so their appeal might be limited. The options for different mechanical switches is a plus, but the lack of back lighting offsets that. Over all we are not sure what market the Tizona is really aimed at considering its price and the mixed messages that the features offer. Over all we can say that it performed very well even if the type of switch that we received (brown) is not our personal favorite. Again the Tizona is priced in line with other mechanical keyboards on the market both lit and unlit which could hurt it in the long run.
Discuss this in our Forum