The games included in the bundle include (developer names in parentheses):
Ring Runner: Flight of the Sages (Triple B Titles) – A fast paced space combat game which is combined with the rich story and skill variety of a fantasy role-playing game.
Expeditions: Conquistador (BitComposer / Logic Artists) – Search for gold, fame and adventure in the New World, in this highly acclaimed 16th Century turn-based strategy.
Master Reboot (Wales Interactive) – A creepy sci-fi horror adventure with a distinctive visual style and intriguingly imaginative storyline, Master Reboot is also about to make its debut on Sony's PlayStation® Network.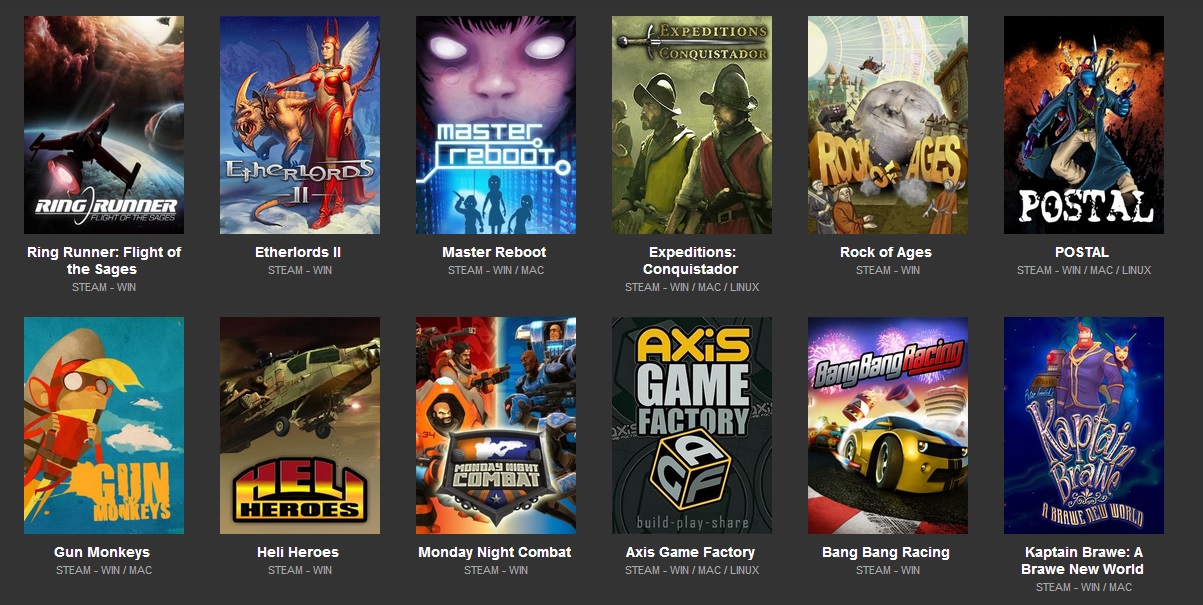 Etherlords II (Nival) – A highly entertaining fantasy trading card and combat game which has been described as a cross between "Magic: The Gathering" and "Heroes of Might and Magic".
Also included are: Bang Bang Racing (Kalypso Media/Digital Reality), Gun Monkeys (Size Five Games), Heli Heroes (Topware/Reality Pump), Kaptain Brawe: A Brawe New World (Libredia/Cateia Games), Monday Night Combat (Uber Entertainment), POSTAL (Running With Scissors), and Rock of Ages (Atlus/ACE Team). Plus, the original Etherlords is included with Etherlords II as a bonus lucky 13th game.

Get the lot for $4.99 from http://www.bundlestars.com. That's a killer saving of $120, equivalent to slicing 96% off the retail price. Grant Hughes, Manager of Bundle Stars, said: "Indie developers have revolutionised PC gaming, and Bundle Stars provides gamers with a means of rewarding their amazing efforts. In allowing gamers to play and also to craft, The Adrenaline Bundle also actively encourages wannabe developers to try their hand at game creation. It's exciting to think that some of our customers could go on to become the star developers of the future."
Anyone interested? Tell us in our Forum