The Box and Goodies -
The Xornet's box is about what you would expect from a mouse. The front has a picture of the Xornet apparently smashing through glass. Right below this graphic are the words 2000 DPI high precision optical sensor. The front of the box has a nice flap that allows you to take a closer look at the Xornet. It also has a diagram that is intended to show off the major features of the Xornet. We will talk about those a little later.
The back of the box has a little bit more information to offer some of it quite nice. The Xorent only has a DPI of 2000, but it does pick up in terms of the polling rate and also the bus width for its USB connection. Sadly for left-handed gamers this mouse is designed for the right hand only, but at least it is ergonomic.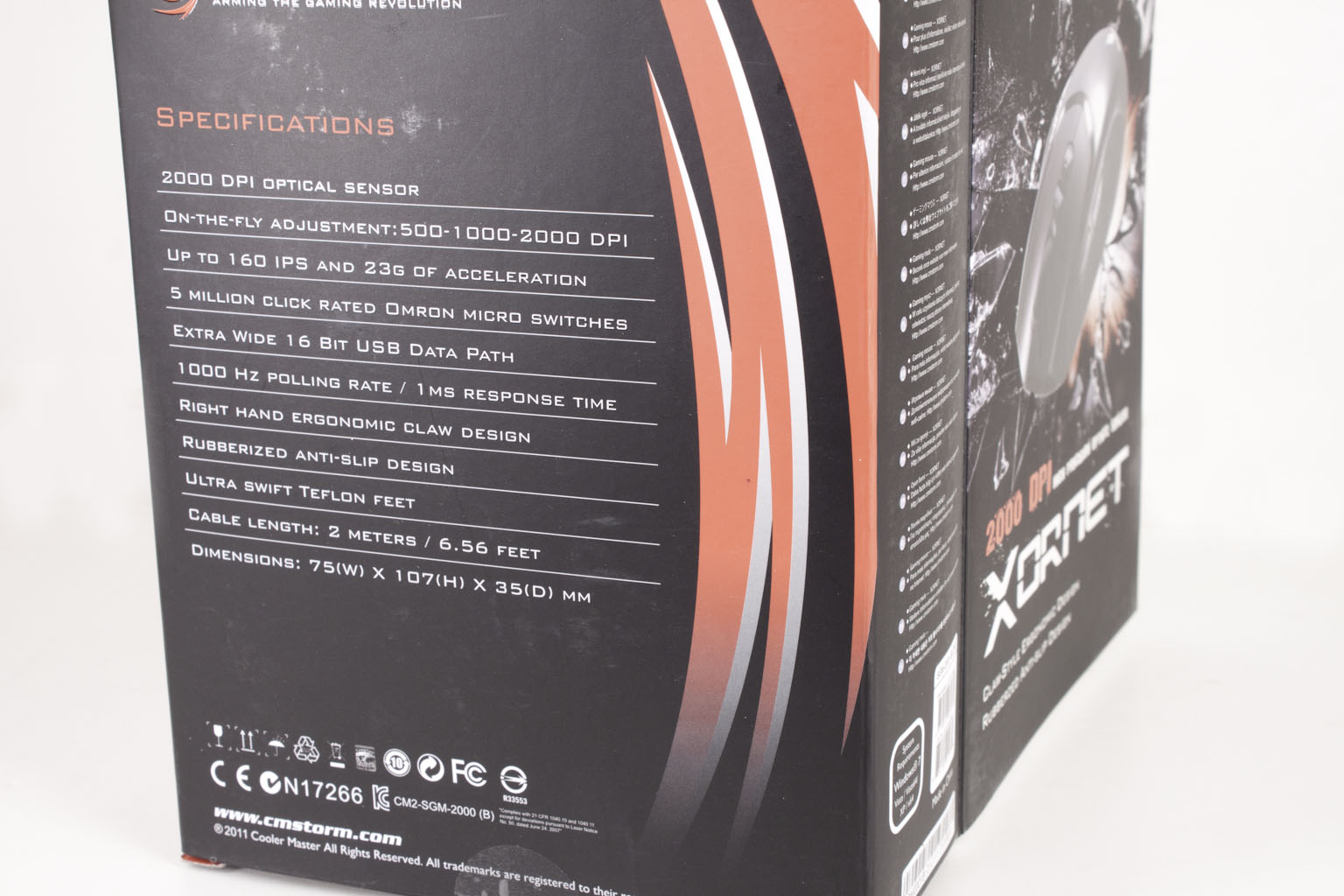 Once you get over the outer shell of the box you will find that what you get (other than the Xornet) is pretty light. The Xornet is laid out on a red piece of cardboard. Under that is nothing more than a quick start guide. No drivers CD, nothing. Just to be sure we did not miss anything we checked online at Cooler Master's site and there was nothing there either. This means that this is not a programmable device so its performance had better be top notch.
| | |
| --- | --- |
| | |
The CM Storm Xornet -
As we told you in the introduction the Xornet is built along the same style as the Spawn. This means it is an ergonomically shapped "claw" style mouse. This style of mouse allows you to relax your hand over the mouse instead of gripping it. It works with smaller and larger hands and is controlled primarily by your thumb and ring finger (for side for side to side movement). There is a sloped surface along the right hand side of the mouse that you can rest your ring finger on while your pinky sits comfortably on the padded rubber surface on the right side of the mouse. Your thumb rests on another rubber pad on the left side.

| | |
| --- | --- |
| | |
Just above where your thumb rests are two buttons, these are forward and back buttons for browsing (but can be customized if your game allows). The right and left mouse buttons have a slightly rough texture to them which gives a good grip and a tactile response to your fingers. Underneath these are five million-click Omron micro switches which means you can do a lot of clicking before these will go out. In-between the two mouse buttons is the scroll wheel (which acts like a third mouse button also) and the DPI adjustment buttons. The Xornet has a three DPI options 500, 1000, and 2000 DPI, its image processing capabilities are listed at 2600 FPS. This means you do not have to worry about your GPU out performing your mouse.
| | |
| --- | --- |
| | |
Flipping the Xornet over on its back we get a glimpse of the 2000DPI optical sensor. Again this is identical to the Spawn in placement (if not in resolution). You get the same large Teflon feet to prevent the mouse from grabbing if you run a little beyond the limit of your mousing surface.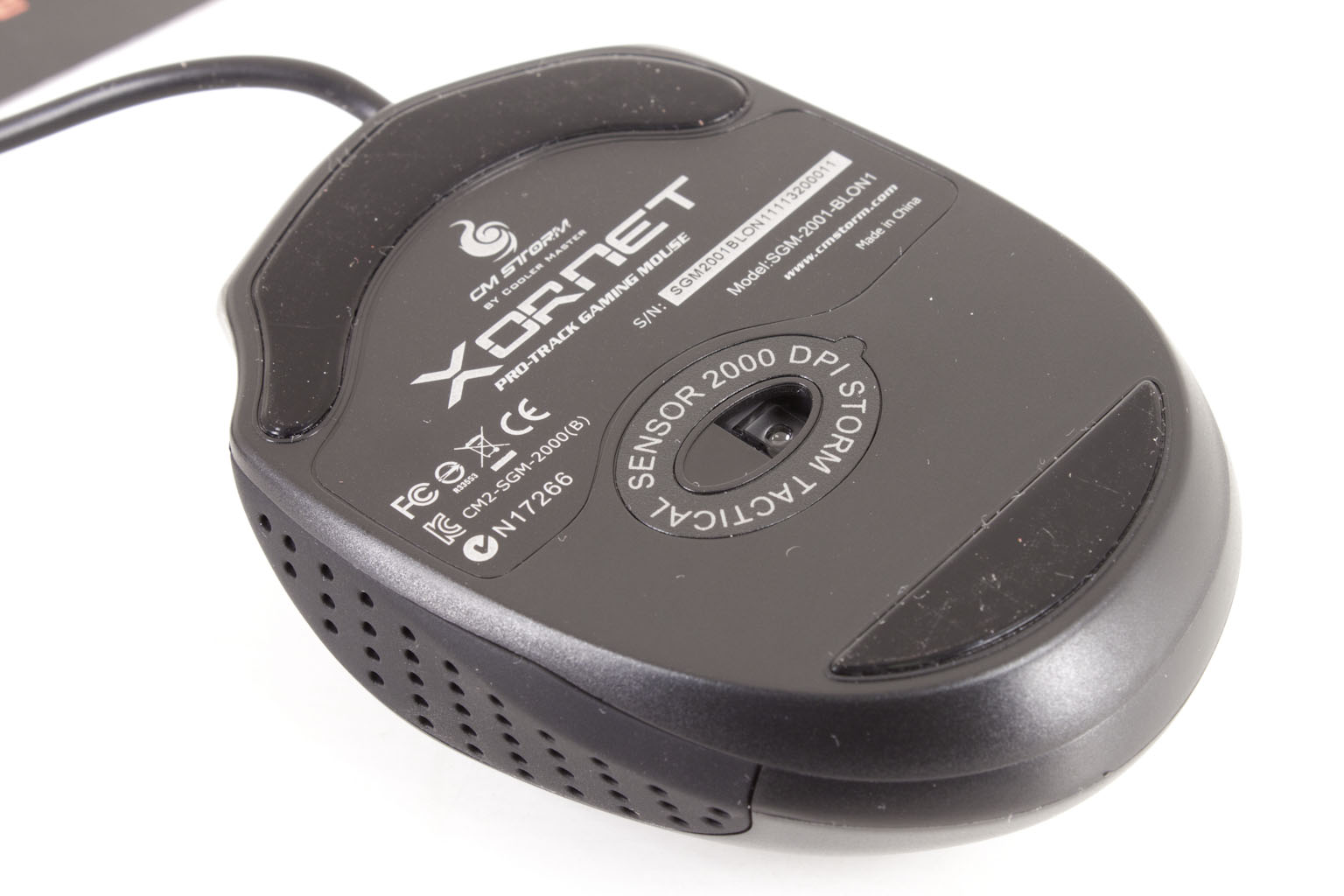 Over all the Xornet is a well-built mouse with plenty to offer n paper, including a 6.6 foot USB cable. Now we just need to see if it works well for gaming, general usage and productivity work.
Performance -
To test the performance of the CM Storm Xronet I stacked it up against my G5 laser gaming mouse, the Sentinel Advanced, the Inferno Mouse, and of course the Spawn. I played through several levels of Medal of Honor, Portal 2, and Homefront. I played each of these for one hour using each mouse to gauge hand and wrist fatigue and also accuracy and ease of use. I then sat down for some detailed Photoshop CS5 editing. These tests would be using the eraser tool and the cloning tool to edit and clean up small details in images. Unfortunately as these tests are all subjective I can only offer you my experience with it at this time.

The Test System -
For testing the Xornet I used my main desktop which has the following specs;
Intel Core i7 965
18GB Kingston Hyper X DDR3 1333 (@1600MHz)
Asus Rampage III Black Edition
Xonar Xense Audio Card
Seagate 500GB Boot Drive
Seagate Constellation ES 2TB SATA Data Drive
Kingston 40GB SSD Now (Cache drive for Photoshop)
ATi FirePro V8800
Thermaltake Toughpower 750
Windows 7 x64 Ultimate With SP1

After using the higher DPI Spawn and Inferno the Xornet felt a little like moving in slow motion. It was a little more precise, but I had to really increase the response time to get it to feel like it was moving as fast as I wanted it to. In Portal 2 this was no hindrance and turned out to be a benefit. In both Medal of Honor and HomeFront it had an effect. On one hand I was much more accurate and aiming even while moving felt more stable. It was when shifting between targets that things got a little bogged down. Still it was not that bad and by the time my hour was ending with each of these games I was getting used to the way it moved.


During our Photoshop testing I found the Xornet to be a great choice. Although the motion felt slower it was much more stable and steady. One of the tests that I do is to erase the background around an image. This is very exacting work and if your mouse it too jittery you end up with very uneven and ugly lines that have to be blurred. The Xornet was accurate enough that I did not need to do any of that.

As with the Spawn the Xornet was comfortable. Even after just over three hours of gaming my hand did not feel fatigued and there was no ache in my shoulder like I get with other mice I have used. It is a very well put together product, even if it does feel a little slow compared to the 3500 DPI + mice like the Spawn.
Value -
Value is another very subjective topic. What is expensive to some might be a deal to others. You can look at this topic in multiple ways. One is raw price and the other is what you get for the money. Each is accurate and both are correct ways to look at price/value. We tend to look at features, performance and real-property when we discuss value. However, we also take into account the raw cash cost of the item.
The Xornet will set you back a mere $30. This is really a drop in the bucket for a mouse of this quality. Of course for only $15 more you can get programmability and 3500 DPI from the CM Storm Spawn. This is something to think about if you are a heavy gamer. If, on the other hand you are on a tight budget and want the same feel and comfort of the Spawn then the Xornet is an excellent option for you.

Conclusion -
As the Xornet is based on the same design as the Spawn I like the comfort and ease of operation that it provides. Although the 2000DPI Optical sensor made the Xornet "feel" slower in reality it was not that bad and you had the added benefit of better accuracy (or at least the perception of accuracy). I do wish that there was a way to program the controls, but then again that would push the price up and that would not be good either. Speaking of price, the $30 price tag is great, but I think that to make this really move and to not see the Spawn outselling the Xornet due to the small price difference Cooler Master might want to drop this down to $25 or even $20 (depending on the cost of manufacture). At those prices the Xornet would be a steal and it would only make people want to drop the extra $20-25 to get the Spawn later. So to wrap things up, the CM Storm Xornet is a nice little mouse that will not cost you a ton of money. It is a solid gaming mouse and excellent for Photoshop/ Production work. We can highly recommend this to anyone looking to pick up a nimble, comfortable and inexpensive mouse.

Discuss this in our Forum