IFPI's anti-piracy director said "The operation to close Demonoid was a great example of international cooperation to tackle a service that was facilitating the illegal distribution of music on a vast scale. I would like to thank all those officers involved in this operation to close a business that was built on the abuse of other people's rights". Just to remind you, Ukrainian police visited ColoCall last week (ColoCall is the company that hosted Demonoid's site). The police copied all data from the server(s) and sealed it. ColoCall was also forced to break their contract providing service to Demonoid. All of this happened after an official visit from the Ukrainian Vice President to the government of the US.
According to TorrentFreak, Demonoid's owners are currently in Mexico where the investigation has started against them, resulting in swift arrests and commodities confiscation.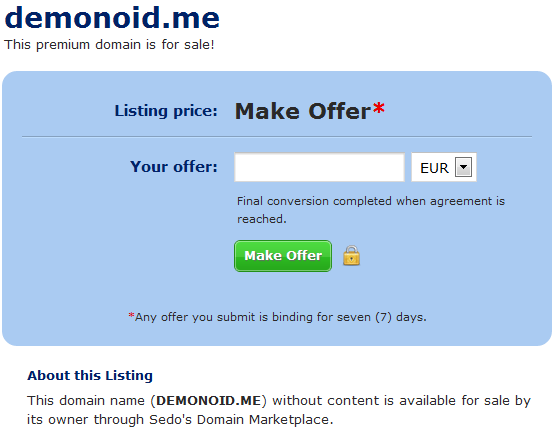 So if you have a spare money and want to give a shot at buying one of most famous torrent site domains, feel free to go to Sedo's website and post your bid. You will have to create (and confirm) an account there first and make a deposit to even be able to see the domains listing so be careful. Also there are many other domains like wwwdemonoid.com, demonoid.in(€6200), demonoid.info ($8800) and similar selling at decent prices, probably by people who expect users to type the original website's name wrong and gain more visits.
[Ed – The move to take out the sites that provide tracking and consolidation for torrents and magnets is a big move by the copyright industry. They have been aggressively attacking them by almost any means available. Recently they have been putting pressure on some elected officials in the US to do more to help. This has resulted in many of the misguided and uninformed attempts like SOPA, PIPA and CISPA. It has also been what is behind some of the economic pressures put on countries like the Ukraine Japan, and possibly even New Zealand to remove sites that are actually outside the control of US laws. It is a situation we have been following in more than one case. ]


Discuss this in our Forum