Valve knows that this is a good time to launch their product to people looking for more than the closed environment that Sony, Microsoft and Nintendo are offering. They also know that many hardcore PC gamers will never be tempted consoles so they need to offer something more to those people. They are doing this with the SteamOS concept which would allow someone to build their own console. For those that are not interested in this there is the Steam Machine.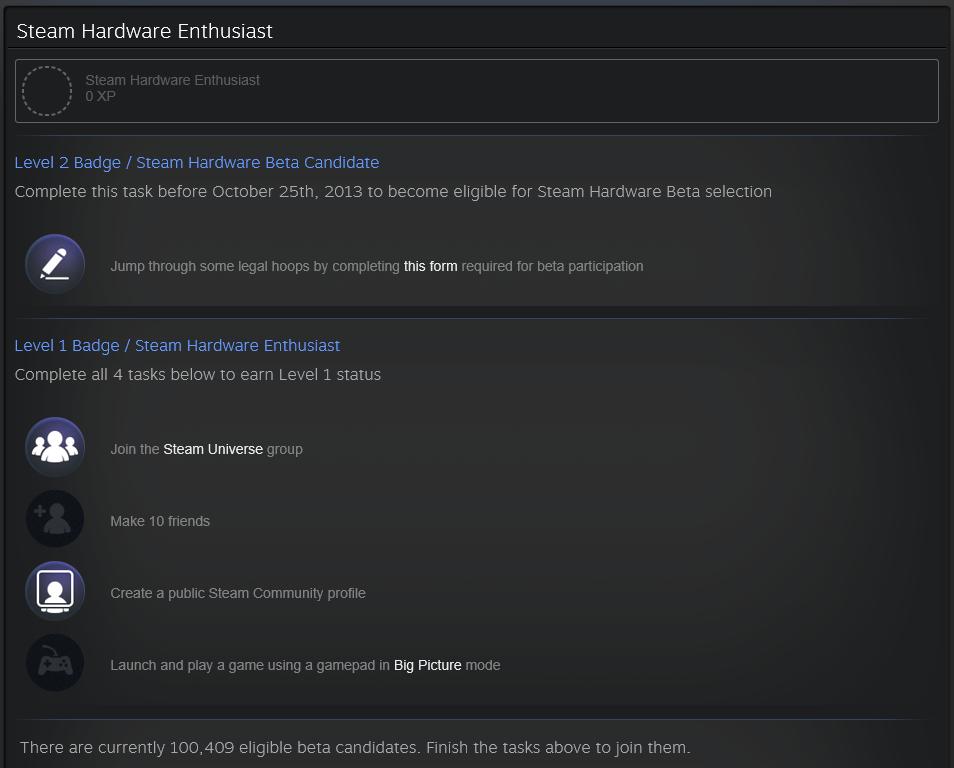 Still how do you get people interested in and using your product? You give it away to the right people. Valve has created a new Beta Tester application that is very smart. In order to qualify you need to follow a few steps which earn you badges. As you can see below the steps are easy and involve building the community as well as gathering up some market data at the same time. Valve knows that the people that shoot for this are going to be giving them the type of game that gamers are looking to use on their living room TV which is a very smart idea.
As side notes Valve is also going to build their community more as they require people to have at least 10 friends, a public community of their own (we have the DecryptedTech community) and also be a part of the Steam Universe group. Someone put some thought into this and it is going to gain momentum even though there are only 300 Steam Machines up for grabs. To give you an idea there are already over 100,000 people that have completed the tasks required to join the program and it has only been around 24 hours since the launch. That is a pretty big community (not to mention a lot of market data) we have no doubt that the interest in the program will grow and that the Steam Machine and OS will get into the market effectively. Valve and Steam just need to make sure they do not lose sight of what their goals are and continue to build not only the community but the capabilities that their hardware and software can provide to their target market. Things are certainly going to get interesting in the next few months.


Tell us what you think