Reading time is around minutes.
BIOS -
BIOS is an acronym that stands for Basic Input/Output System. It is meant to control your product at a very low level. As of right now there are three regularly used BIOS formats (there are actually more than that but there are three common ones). These are the AMI (American Megatrends Incorporated), Award, and Phoenix. When we first tinkered around with the Click BIOS from MSI we were not all that impressed. The BIOS had a cartoonish look and had some pretty bad lag when moving between screens. There were also functions that required the DVD or for additional software to be loaded onto your system drive (or to a USB drive). However with the second generation of MSI's UEFI implementation much of that has gone away. Click BIOS II is very clean and easy to use. Check out our video walk through of the Click BIOS II on the X79A-GD65(8D).
| | |
| --- | --- |
| | |
Overclocking –
In the past we have had good luck with MSI and getting some good performance out of their products (at least for Motherboards). This was also the case with the X79A-GD65(8D). We did run into a couple of items that were unexpected though. For some reason we were not able to use the Boot Clock adjustment to kick the BCLCK up to 125MHz. Every time we tried it we hit a brick wall and the system would not post. This turned out to be ok as we were able to OC with a straight multiplier adjustment. We started off aiming for our current record of 4.7GHz on the Core i7 3960 we have in the lab. This did not end up working as we were unable to get to the login screen for Windows. At 46x100 we had no problems, but we wanted to try and push the system a little more. Using the same settings (as seen in the BIOS screen shots) we were able to get 4.691GHz (102MHz BCLK x 46 Multiplier) and run all of our tests without issue. This is not a bad overclock at all and although it did not break our max OC for the CPU we have we are confident that with more time you could get much more out of the MSI X79A-GD65(8D)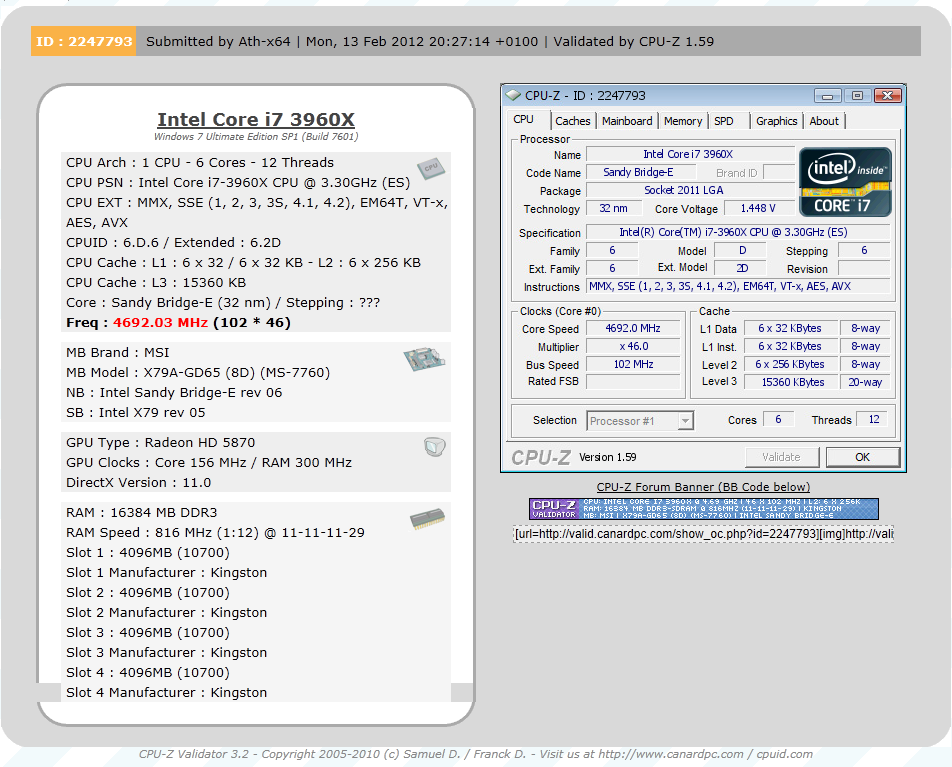 Of course overclocking is a picky subject. I can buy to identical CPUs from the store and they will not always perform the same way under stress. This is the same with motherboards, RAM and GPUs. So again it is important to keep in mind that our results represent a specific hardware configuration. Yours may be similar but will rarely be identical.

Overclocking Tool -
For MSI you actually have multiple tools you can use to overclock your system. The first, and one that MSI has been pushing for a while, is the OC Genie. This hand little tool allows you to perform a one button overclock. The overclock here is not going to give you world record performance, but it will give you a decent clock speed which in turn should give you a decent performance increase. You can also use the two step buttons on the board (the + and -) to increase or decrease the BCLK of your CPU dynamically; although I would not recommend using them to push too far.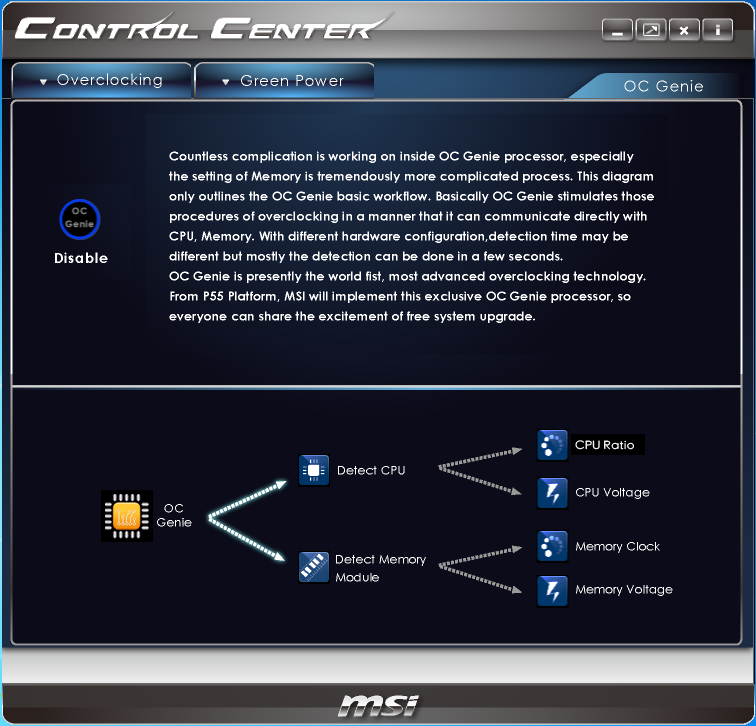 If you are in Windows you have two additional tools to play with. The first is the TouchBIOS software that is a UI for interacting with the BIOS directly from inside Windows. This differs significantly from most overclocking software in that you have access to ALL BIOS features and not just the ones that cover clock speed and voltage.

Lastly you have MSI's Control Center. This software is what you would expect from your traditional overclocking application. It also has an added benefit in that all of your options are on the one page for kicking your CPU into high gear.