Displaying items by tag: Patnets
Monday, 11 March 2013 18:47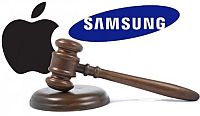 When companies go into a patent war, you can expect all sorts of cheap shots to be seen. Samsung was accusing Apple of violating patents related to 3G technology, but it turned out that the allegations were unfounded.
Sunday, 22 July 2012 11:53
We have written several articles on Apple and their abuse of the patent system including a recent patent that is really nothing more than an attempt to undermine all competition for both the smart phone and any operating system that utilizes OpenCL. Both of these patents (one that has attempted to patent the list and the other on the methods used to implement OpenCL) are exceptionally harmful to the consumer and the market. In the case of the OpenCL patent we find it very odd that they would patent something they submitted to Kronos as an open standard and now patent it. They are doing exactly what they claim Motorola and Samsung are doing with their standards essentials patents.