Friday, 06 July 2012 19:39
Thecus® TopTower Warranty Extended to 5 Years
Written by Sean Kalinich

Reading time is around minutes.
Thecus® TopTower Warranty Extended to 5 Years
3 more years of peace of mind for the N6850, N8850 and N10850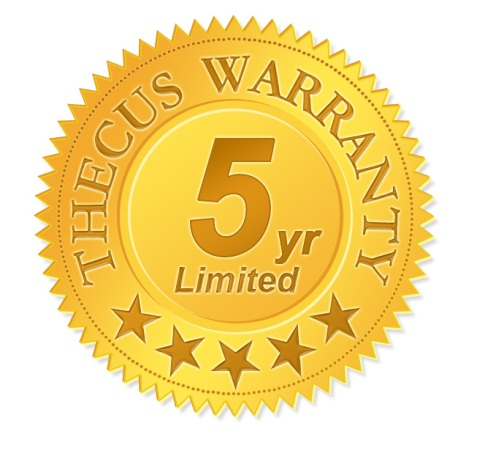 07/06/2012: Already developing strong NAS devices that users can count on, Thecus® is now announcing that its new line of product, the TopTower series, will be coming with a 5 year warranty. Originally announced as a 2 years, the NAS manufacturer warranty extension show how much confidence Thecus® has in the TopTower series and give the message to the users that they can trust this series to serve them well.




Performances and reliability
The N6850, N8850 and N10850 (6, 8 and 10 bay NAS) are already out on the market to impress. Powered by Intel® Pentium™, Intel® Core™ and Intel® Xeon™ processor accordingly, the TopTower series is design to bring rackmount performances and storage capacity in a tower format. And with the touch panel and sleek design that the devices sports, the users will most definitely not want to hide their data storage unit in a closet. Also thinking ahead, the 3 devices have the option to be upgraded with a 10GbE PCI-e card for faster transfers that professionals are looking for. Equipped with unique features like the HDMI output for local display and data security supported by the antivirus McAfee, the 5 years long warranty makes this series even more of a bargain than ever.
Storage capacity, throughput, security and now extended peace of mind, the TopTower devices are out there to perform and bring to the users the power and reliability that they deserve.
For more information on Thecus®, go to: http://www.thecus.com
To read more about the TopTower series, go to: http://www.thecus.com/product.php?PROD_ID=73
About Thecus®
Thecus® Technology Corp. specializes in Network Attached Storage and Network Video Recorder solutions. The company was established in 2004 with the mission to make technology that is as transparent as it is easy-to-use and products that are not only the best on the market, but are accessible to experts and novices alike. Combining a world-class R&D team highly experienced in storage hardware and software development with a keen customer focus, Thecus® stays close to the market to develop high-quality products to fulfill the storage and surveillance needs of today's world.
Leave a comment
Make sure you enter all the required information, indicated by an asterisk (*). HTML code is not allowed.